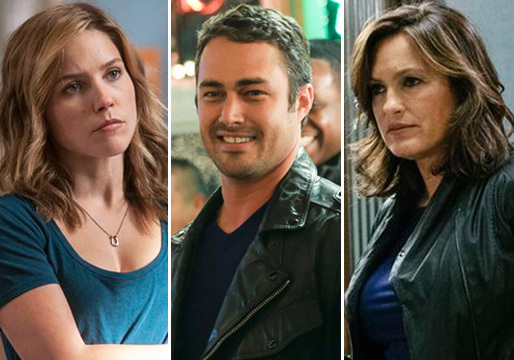 Crossovers between series are all the rage nowadays. Networks such as Nickelodeon, Disney, ABC, and NBC have aired TV show episodes that crossover into another one of their shows. Next week, NBC will a story line that spans across three of its hit series.
The story will begin in this weeks 'Chicago Fire' episode entitled "Nobody Touches Anything (1)". In the episode, Firehouse 51 is called to a house fire where they rescue the injured owner. In the owner's hands is a box with some very unsettling contents in it. Lt. Severide will hand the box over to the Intelligence Team at the local P.D.
The story continues in the weeks episode of 'Law & Order: SVU' entitled "Chicago Crossover (2)", Sergeant Voight and Detective Lindsey of the Chicago PD trace the contents to a suspect who was last seen in New York City. There Sergeant Benson and her SVU team follow a new lead that could be connected to Voight's case. 
The crossover concludes in the weeks episode of 'Chicago PD' in an episode entitled "They'll Have to go Through Me (3)". The episode will put New York City's SVU team and Chicago's Intelligence Team in a race against time to locate and take down a pedophile ring before it's too late. 
NBC's crossover event will air over two days beginning Tuesday November 11 with 'Chicago Fire' at 10pm, and ending Wednesday with the episodes of 'Law & Order: SVU' at 9pm and then 'Chicago PD' at 10pm. Do you normally watch one or two of these shows and this week will you be tuning into all three?