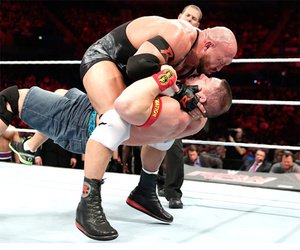 USA Network have announced today that the week of December 15, will become WWE Week on the channel. The week will kick off with Monday's 'Monday Night Raw', and the latest live 'Smackdown', the week will also feature a special 'Trubute to the Troops' episode and will see various WWE personalities such as The Miz, Big Show, Brie Bella and Stephanie McMahon appear during USA Daytime between 11am and 3pm Monday-Friday.
The full schedule for 'WWE Week' is as follows
Monday 15th Dec-Friday 19th Dec 11am-3pm
Cat Greenleaf interviews WWE Superstars and Divas, on her iconic stoop, including The Miz®, Big Show®, Titus O'Neil™ and Brie Bella™, as well as Chief Brand Officer, Stephanie McMahon.
Monday 15th Dec 8-11pm ET - 'Monday Night Raw' live from Detroit, Michigan.
Tuesday 16th Dec 8-10pm ET - 'Smackdown' live from Grand Rapids, Michigan.

Wednesday 17th Dec 8-10pm ET, 'WWE Tribute To the Troops'