Elsa and the others go to the town line and she uses her powers to bring down the ice wall sealing Storybrooke in. Anna is eager to go back to Arendelle, but Emma stops her before she can step over the town line. She warns that she can sense some magic and approaches the border, and finds a magical barrier. Emma explains that the Snow Queen created a portal and suggests that they find a magic portal. Anna is eager to go and tells Elsa that Hans and his brothers have conquered Arendelle. Once she gets the news, Elsa insists on finding a way back immediately. Meanwhile, Hook slips quietly away.

At the pawnshop, Hook tells Gold is still sealed in. The pirate says that Elsa and the others are searching for a way back, and Hook realizes that Gold wants to get Anna out of Storybrooke because she knows about the dagger. Gold tells Hook to make sure that Anna doesn't come near the pawnshop, and promises that when the star alignment comes he will finally crush Hook's heart. Hook wonders what Gold will be doing, and Gold says that he's going to give Belle the gift that she's always wanted.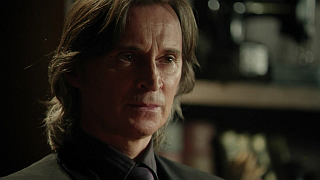 The Enchanted Forest

Belle is cleaning Rumplestiltskin's castle and finds a cabinet containing a sword. As she picks it up, Rumplestiltskin comes in early from his trip and admits that he lied to see what she would do. Belle says that she was curious about everything he has and notes that he could be much more rude to her. Rumplestiltskin threatens her but Belle points out that if he was going to kill her then he would have done it long ago. She asks about his travels, and Rumplestiltskin conjures a gauntlet and tells her to clean it. When Belle wonders what it is, Rumplestiltskin says that it can locate any person's greatest weakness. When she wonders when she needs that despite all of his power, Rumplestiltskin explains that most people's greatest love is their greatest weakness.

Now

Gold wakes Belle and says that he's finally going to show her the world for their honeymoon.

At the vault, Regina and Robin revive Marian now that the Snow Queen's curse is broken. She hugs her husband as Regina looks on. Later she goes to the diner and Marian approaches her. She thanks Regina for saving her life but has realized that Robin and Regina are in love. Marian knows that Robin's heart has moved on in the years that she was gone. Regina says that Robin is a man of honor and will keep hi wedding vows, but Marian says that she doesn't want a man who is obligated to be with her. She offers to step out of the way if Robin truly loves Regina and walks out.

Gold and Hook follow the enchanted broom to the home of the Sorcerer. The pawnshop owner figures that the Sorcerer's magic is powerful enough to create a portal to another world. The doorway appears and Gold steps forward to examine it.

At the pawnshop, Belle is packing when Henry comes in and asks if she's taking a trip. When she explains about Gold's plan, Henry says that the Snow Queen has left a barrier around the town. Belle figures that Gold knows a way to remove it, and Henry explains about his theory concerning how his storybook is influencing Regina's life. She assures her grandson that Regina's life is different now, and as Henry looks through the shelves to get another suitcase, he knocks the gauntlet on the floor. Belle remembers it and picks it up.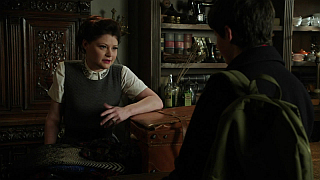 The Enchanted Forest

Belle gets Rumplestiltskin tea and says that he collects so many things because he has a hole in his heart. He refuses to hear any more from her and teleports her outside to do his laundry. As she works, Belle finds a Dalmatian puppy It runs off into the woods and when she follows it, a cloaked figure grabs her and drags her away.

Now

Hook goes to the diner and finds Emma with her friends from Arendelle. He pours himself a drink and tells Emma that Gold directed him to the portal to Arendelle. Emma wonders if they can trust Gold. Gold, at the pawnshop, directs Hook in what to say. He has Hook beg off accompanying them. Emma realizes that Hook is acting strange, but Hook assures her that he's fine and kisses her. He grabs her hand and squeezes it, and then leaves.

The Enchanted Forest

When he realizes that Belle is missing, Rumplestiltskin goes looking for her. A crow drops a sand dollar in front of him, and Rumplestiltskin activates it. It projects an image of Belle, who tells him to bring the gauntlet to the base of Demon's Bluff at midnight, or she'll be killed. Angry, Rumplestiltskin yells at the crow, telling it to tell its master that he knows who controls it and they've crossed the line.

Now

Regina and Robin accompany Marian and Roland to the lake. As they watch them, Regina says that children come first. Robin insists that he's chosen Regina, and prefers to set an example for Roland by following his son. The outlaw takes out the page from the storybook showing them together. Roland calls to them as Marian collapses, and Robin and Regina run over and discover that she's freezing. Regina realizes that her heart will have been infected, and says that if she leaves Storybrooke then she could be cured by the lack of magic. However, she warns Robin that it's a one-way trip and someone has to go with her: Robin and Roland.

Later, Regina watches at the town line as Robin prepares to leave with Marian and Roland. Gold gets in the car with Regina and says that he's leaving, and asks her to tell Henry that he'll miss him. He knows that Henry was there to spy on him and asks Regina why, and Regina explains that her son was looking for her happy ending. Gold admits that he doesn't know who the author is, and Regina wonders how he got his happy ending with Belle. He says that he took it and tells Regina to do the same. Gold points out that if Marian died then Regina would have her happy ending. She points out that he sounds like his old self, and Gold says that he's evolved after coming back from the dead. He tells Regina to watch as he takes his happy ending for himself, and says that he wants the same for her.

Once Gold leaves, Regina goes over to Robin and makes sure he has the map and money that she gave him to get started. As Will and the other Merry Men look on, Marian convulses and Regina says that she needs to go. Marian thanks Regina and goes over the line with Roland, curing her. Regina tells Robin to go and he kisses her, and then crosses the line as well. As he and his family go, Regina takes out the storybook page and tears it apart.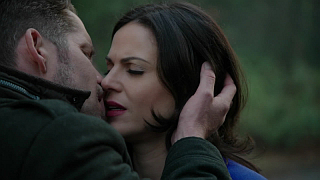 The Enchanted Forest

Rumplestiltskin goes to Demon's Bluff and Maleficent shoves Belle out and then comes out. Rumplestiltskin chokes her with a magical gesture, saying that she's made a mistake. Maleficent says that she's not alone, and Ursula grabs Belle by the throat. Cruella De Vil steps out of hiding, and Rumplestiltskin casually threatens them all if they don't' release Belle. Ursula starts crushing Belle, and Rumplestiltskin finally relents. Ursula assures him that with the gauntlet they will finally win. They hand Belle over and teleport away, and Belle wonders why he cares about her. Rumplestiltskin insists that he doesn't and says that if anyone kills her then it will be him.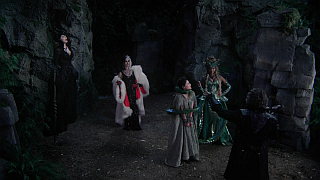 Now

At the bell tower, the alignment begins and Gold prepares to crush Hook's heart.

Emma, Mary Margaret, David, and Henry take Elsa and her family to the manor. They find the portal and Elsa thanks Emma for everything that she's done. Emma opens the portal and Anna goes last. She asks about Gold and David confirms that he was Rumplestiltskin in the Enchanted Forest. Anna says that she met Rumplestiltskin and Emma realizes that Gold is playing them.

.Gold conjures the Sorcerer's Hat and releases the magical energy inside, and the starlight shines down on him through it. Emma and the others arrive and tell him to stop, but Gold says that he's too close and immobilizes them. He starts to crush Hook's heart but stops, and Belle steps out with the dagger and explains that she commanded him to stop. She orders Gold to drop the heart and release everyone. The spell fades and Belle tells Gold to teleport him and her to the town line so they're alone for what comes next.

At the town line, Belle says that she's finally facing the truth. She reminds Gold that he traded for her to save her life. When she found the gauntlet, Belle realized that everything she has seen finally added up. She knows that Gold will never give up power for her, because the gauntlet led her to the real dagger. Gold insists that there's nothing wrong with power if it will let them have it all, but Belle says that she just wanted him. He promises to change again, but Belle says that he's never changed and now there's only the beast. Belle commands him to leave Storybrooke and Gold says that he doesn't want to lose her. She says that he already has and forces him over the line, and Gold collapses to the ground sobbing.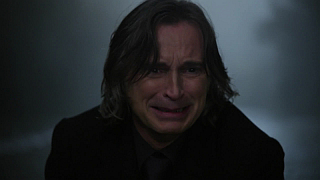 In Arendelle, Elsa and Anna soon take back the throne and prepare for Anna's wedding. Anna finds a portrait of Gerda and her sisters, and Elsa asks why she postponed her wedding to find out the truth about her. Surprised, Anna says that she couldn't marry unless she knew Elsa was as happy as she was. They hug and then go hand-in-hand to the chapel.

In Storybrooke at the diner, Emma puts Hook's heart back in place. He kisses her and Emma kisses him back. Emma then goes to join Regina at the counter and orders drinks. Surprised, Regina accepts and Emma tells her that she knows she did the right thing. When Regina says that she's miserable, Emma points out that Gold is as well, cheering her friend up. Henry runs in and says that he's found something big. They follow him to the manner where he explains that he stayed behind to search the place. He  triggers a hidden door and inside they find a vast library. There are hundreds of storybooks like his and they're all blank. They realize that the manor is the author's house, and Regina tells Emma about their plan to have the author write her a happy ending. Emma agrees to help and keep her promise to Regina to find her a happy ending.

Six Weeks Later

Gold takes a bus to New York City

The Enchanted Forest

Rumplestiltskin tracks down Maleficent, Ursula, and Cruella, and demands the return of the gauntlet. He easily teleports it away from them. Cruella warns him that the game is rigged and they can never win, but Rumplestiltskin says that he always wins... alone.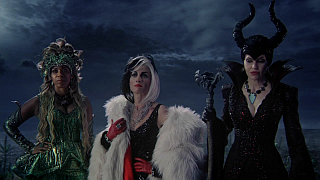 Now

Gold goes to an aquarium where Ursula is working as a janitor. She points out that he's down and out, and Gold admits that the rules apply to him as well. He suggests that they find the author, and offers her the chance to come with her. Gold warns her that the heroes will stand in their way... and they have two more stops to make.