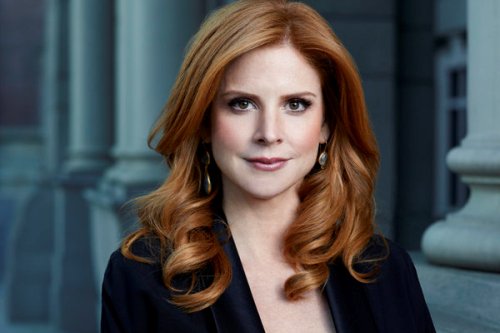 Sarah Rafferty talks about starring on Suits which can be seen on the USA network Wednesday nights at 9pm. The new series can be seen in the United Kingdom on Dave from Monday August 10th at 10pm.
We're rooting for Donna and Harvey to get together! Will they?
I think Donna knows they're not the best match, especially at the end of season four. She needed Harvey to step up and have an honest conversation with her. He couldn't do it. She thinks he's not emotionally in-tune with himself enough to be with her, beyond being the work duo that they are. But I think there's more outside the office and they're maybe best friends, too. I think she has her own stuff to deal with too. I don't know if they'll get together and I'm glad it's not my decision!
Does it make it easier acting with Gabriel as he's your real-life best friend?
The fact Donna and Harvey had a long-standing history, as we do too, was great because it quickly made us comfortable. It feels safe when we work  together. On the other hand, yesterday we had an unprecedented giggle attack. It happens all the time. We still find it hilarious that we are our normal,  goofy selves but we're playing these slick, professional people.
The show has a huge appeal to women, why do you think that is?
The show has something for everyone and appeals to different demographics. And it's full of great, strong, powerful women. I love that Pearson is the first name on the wall. I don't think Donna considers it to be a man's world. She dresses femininely, that's something she finds powerful; she's not trying to be masculine that's not better in this world.
Courtesy of Dave