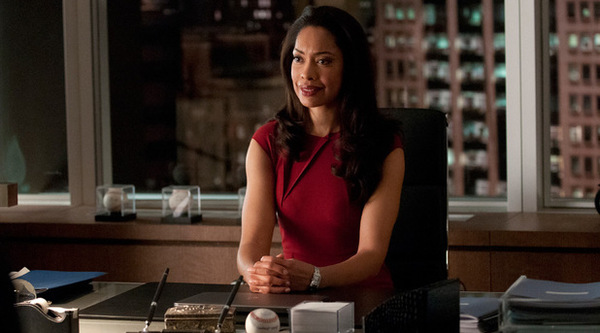 Gina Torres talks about starring on Suits which can be seen on the USA network Wednesday nights at 9pm. The new series can be seen in the United Kingdom on Dave on Monday nights at 10pm.
We see vulnerability in all the characters but Jessica never lets her guard down. Why not?
She can't afford to. Even Harvey tried to take her down in series two! I think her vulnerability is her firm. It's what she's dedicated her life to and, as far as we can see, what means the most to her, where her energy lies and she takes a great deal of pride in that. Whenever it's being threatened, which is every day, in every series in some shape or form, she rallies.
Is it satisfying playing the female leader in a macho world?
Absolutely! As much as she's in a 'man's world,' she never short-changes her femininity. She always knows herself as a woman and never lets that drop. She uses that to her advantage. She wouldn't be wearing her clothes this tight if she didn't!
Can you relate to Jessica?
Absolutely. And understanding the choices she is making helps me play her. I don't think she sets out to hurt anybody, she's never gone after anyone in a malicious way. Everything she does is to protect her own because these people are her family, even those that have betrayed her. She's incredibly loyal. That's when you see the ruthlessness come out. She's really quite bright and you don't always know which corner she's going to turn. I wouldn't want  to get on the wrong side of Jessica!
Courtesy of Dave