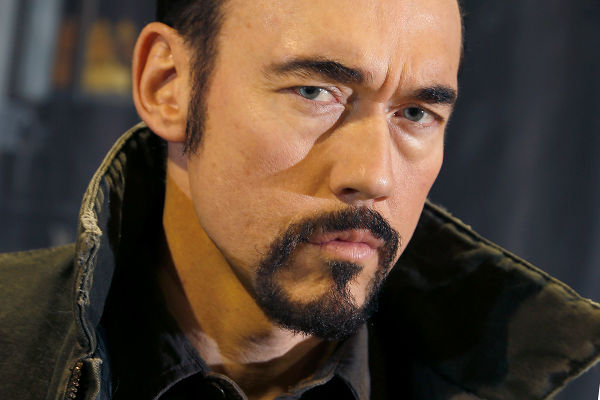 Kevin Durand talks about the second season of The Strain and starring in movies. The Strain can be seen on Sunday nights at 10pm on FX. The new series can be seen on Watch in United Kingdom from Wednesday, August 26th at 10pm.
What can we expect for your character in season two?
You get to see more layers of him; he carries more weight in the narrative and is definitely stepping up to the challenge. He's obsessed with taking the mother - suckers down but while he's this really hard dude, he's got vulnerabilities as well. His relationship with Setrakian continues to develop; Fet almost feels like he needs to take care of him because he saw him completely lose his cool at the end of last season. It's an exponential growth of vampires from season one too, the most we've ever seen.
What attracted you to the role in the first place?
I got a call from my agent saying that Guillermo del Toro and Carlton Cuse wanted to see me and my ears obviously went ooh ok! I had three days before the meeting so I read the first Strain book. I was about 45llbs lighter and had white hair and a moustache because I'd just shot The Captive, and they said you're not usually this skinny are you? I was like no! I'm hungry right now! I was attracted to the fact it was Guillermo and that these were the monsters he'd been having nightmares about since he was a child. When I read the book, I really wanted to be Fet and luckily that's the guy they wanted me for. I love that I get to kill vampires.
Did you know any of the cast before?
Just Robert Maillet who voices The Master who is a good friend of mine. I was a big fan of David Bradley and Corey Stoll's and we've all become friends, which is great. Sometimes we'll have weeks where we have more time to be social, and we all enjoy each other's company. Fet and Eichhorst are actually friends in real life! Richard Sammel (who plays him) is great.
Having been in a successful TV season like Lost, how does The Strain compare?
Lost was like boarding the Enterprise. It was already this ginormous thing when I joined and I was only hired for an episode, then they liked me and I liked them so we kept playing together for a while – but I felt like a guest. What's exciting about The Strain is being there from the ground floor and feeling the vibrations of the show slowly spreading. The Strain is becoming a global thing and I'm so excited to see how it continues to evolve. I'm fascinated by the scope of it.
Is it nice to not be in the makeup chair?
It's a beautiful thing! When I did Dark Angel I had a year of five hours of putting on makeup every day and an hour and a half of taking it off. I'd see that Jessica Alba's call was 7am and knew that mine would be 3am. My days were 18 hours at the shortest. I never wanted to do a prosthetic TV season again - my skin was disappearing!
You've been in big blockbuster films like X Men and Resident Evil, what do you prefer?
The Strain feels like a blockbuster every day. It doesn't feel like there's any jump down in scale from being on I Am Number 4 or Real Steel or any of the other big films I've done. It really feels a privilege to work with so many incredibly talented artists. It's like being a little kid going in to a playground and there's a bunch of the world's greatest professionals helping creat e that imaginary world.
What have you been doing in between season?
Last summer I went to Dublin to film Vikings, then spent the rest of the summer sucking up to my wife for hanging out in the cold of Toronto with me over the winter because she's a California girl. I've been writing a script for a hockey movie too, as I dreamed of being an amateur hockey player from the womb. I've been thinking what my life would have been like if I'd kept playing so it's about an ageing hockey player. My first job Mystery, Alaska was a hockey movie with Russell Crowe and he did pretty good on the ice.
Courtesy of Watch