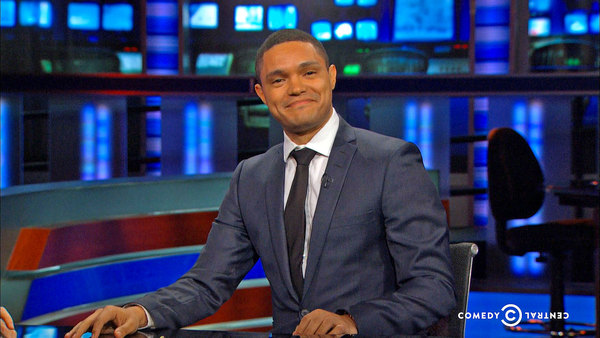 "The Daily Show with Trevor Noah" has established a new social and multiplatform initiative and has hired multi-hyphenate Baratunde Thurston (@baratunde), digital entrepreneur-comedian-writer-author-performer as supervising producer to oversee the creation and production of original content for digital and social outlets, it was announced today by Michele Ganeless, president, Comedy Central.

With this new initiative, fans of "The Daily Show" will have access to more original content presented across multiple platforms, giving them an increasingly robust user experience wherever they consume content. In this evolution of "The Daily Show" under new host Trevor Noah, the Emmy® and Peabody® Award-winning series will produce an ongoing flow of original content that will resonate with fans of "The Daily Show" who increasingly seek content on multiple devices. The creation and production of platform-specific original content will be spearheaded by Thurston who will be working with Noah and the show's executive producers to execute the multiplatform strategy, keeping it organic to "The Daily Show" mission while expanding the series' footprint across all digital and social platforms.

"Baratunde brings a very unique set of skills to 'The Daily Show.' We've been admirers of his comedic work on all platforms for a long time," said Ganeless. "We're thrilled he is joining the team and can't wait to see what he and the team create for the show under Trevor Noah."

"This must be what it's like to have Nick Fury call and welcome you to The Avengers. I'm honored and floored and so many other verbs," said Thurston. "Also, I really love that quote by Michele Ganeless because she makes me sound like Liam Neeson. I will definitely be sharing that on multiple digital and social outlets."

Baratunde Thurston is the president and co-founder of Cultivated Wit and co-host of the podcast About Race. He wrote The New York Times bestseller How To Be Black and served for five years as director of digital for the satirical news outlet The Onion. For the past several years he has delivered keynotes at schools and gatherings such as SXSW and TED, written the back page column for Fast Company magazine and served as a director's fellow at the MIT Media Lab. Thurston has advised the Obama White House and has more than 10 years' experience in stand-up comedy.

"The Daily Show with Trevor Noah" premieres on Monday, September 28 at 11:00 p.m. ET/PT. Socially speaking, viewers can follow "The Daily Show" on Twitter (currently with 4 million followers) and Trevor Noah (currently with 2.5 million followers) and also by becoming a fan of "The Daily Show" on Facebook (currently at 5 million fans) and Instagram (currently at 139k followers).

The series is a 20-time Emmy winner (including a record ten consecutive wins for program) with a grand total of 60 Primetime Emmy nominations. "The Daily Show" is also a two-time winner of the prestigious Peabody Award for Excellence in Broadcasting.

Trevor Noah, Steve Bodow, Jen Flanz, Tim Greenberg, Jill Katz and Adam Lowitt are the Executive Producers of "The Daily Show with Trevor Noah" with Hillary Kun as Co-Executive Producer. Pam DePace, Justin Melkmann, Stuart Miller and Baratunde Thurston are Supervising Producers. The series is directed by Chuck O'Neil.

Available on-air, online and on-the-go, Comedy Central (www.cc.com) is the #1 brand in comedy and is owned by, and is a registered trademark of, Comedy Partners, a wholly-owned unit of Viacom Inc. (NASDAQ: VIA and VIAB). For up-to-the-minute and archival press information and photographs visit Comedy Central's press Web site at press.cc.com and follow us on Twitter @ComedyCentralPR for the latest in breaking news updates, behind-the-scenes information and photos.

Viacom is home to premier global media brands that create compelling television programs, motion pictures, short-form video, apps, games, consumer products, social media and other entertainment content for audiences in more than 165 countries and territories. Viacom's media networks, including Nickelodeon, Comedy Central, MTV, VH1, Spike, BET, CMT, TV Land, Nick at Nite, Nick Jr., Channel 5 (UK), Logo, Nicktoons, TeenNick and Paramount Channel, reach a cumulative 3.2 billion television subscribers worldwide. Paramount Pictures is a major global producer and distributor of filmed entertainment. For more information about Viacom and its businesses, visit www.viacom.com.  Keep up with Viacom news by following Viacom's blog at blog.viacom.com and Twitter feed at www.twitter.com/Viacom.