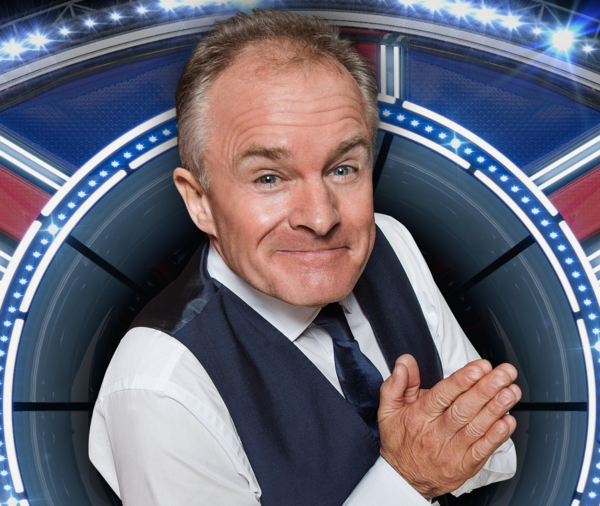 Comedian, impressionist, actor and reality star Bobby Davro has announced a 16-date UK for 2016 starting on 17TH May at Epsom Playhouse and culminating on 26th June at Chesterfield's The Winding Wheel.
He has been on a few reality TV shows most recently this year he was on Celebrity Big Brother where he was shown to be both hilarious and extremely tolerant though willing to speak his mind, eventually he made the final and came fourth!  Other reality shows he has taken part in include 'Dancing On Ice', 'Come Dine With Me' & 'The Games'.
Bobby made his TV debut in 1981, but his major breakthrough came with an appearance in 'Live At Her Majesty's' in 1983, followed by 'Copy Cat's' that led to his own Saturday night series for ITV 'Bobby Davro On The Box', 'Bobby's Sketch Pad' and 'TV Weekly' BOBBY that immediately topped the ratings for six consecutive years.
In 1991 Bobby moved to the BBC and made three series, 'Public Enemy Number One', 'Rock With Laughter' and 'Run The Risk' and in1997 Bobby hosted for Yorkshire Television's 'Winner Takes It All' for 65 programmes. He has performed on hundreds of other entertainment shows over the years that include in 2013 ITV's 'Your Face Sounds Familiar for his chosen charity 'Kids 'n' Cancer'.
BOBBY FACTS:
1) He appeared on the No 1 Hit by the Proclaimers '500 Miles' for Comic Relief with Peter Kay
2) In 2007 and 2008 Bobby played lovable rogue 'Vinnie Monks' EastEnders'
3) He has appeared in many Pantomines over the years alongside varying people that have included Melinda Messenger, Denise Welch, Lee Mead & Nigel Havers.
4) Davro's father, Bill Nankeville was a runner; a British national mile and 1500m champion, world record holder, and represented Great Britain in two Olympic Games.
5) Bobby lives in Surrey with his three daughters Brittany, Tierney and Marnie and in his rare moments away from the world of show business likes nothing better than a game of golf, a spot of fishing, or a glass of Chardonnay in front of the telly.
THE DATES ARE AS FOLLOWS:
MAY
TUES 17th -        EPSOM Playhouse 01372 742555 www.epsomplayhouse.co.uk
THURS 19th -     EDMONTON Millfield Theatre 020 8807 6680 www.enfield.gov.uk/millfield
FRI 20th -           CLACTON West Cliff Theatre 01255 433344 www.westcliffclacton.co.uk
WED 25th -        SHREWSBURY Theatre Severn 01743 281281 www.theatresevern.co.uk
JUNE
WED 1st -          STEVENAGE Gordon Craig Theatre 01438 363200 www.gordon-craig.co.uk
THURS 9th -       BIRMINGHAM Alexandra Theatre 0844 871 3011 www.atgtickets.com/venues/new-alexandra-theatre-birmingham
SUN 12th -         DARTFORD Orchard Theatre 01322 220000 www.orchardtheatre.co.uk
FRI 17th -           EASTLEIGH Concorde Club 02380 613989 www.theconcordeclub.com
SUN 19th -         KETTERING Lighthouse Theatre 01536 414141 www.lighthousetheatre.co.uk
SUN 26th -         CHESTERFIELD The Winding Wheel 01246 345222 www.chesterfieldtheatres.co.uk