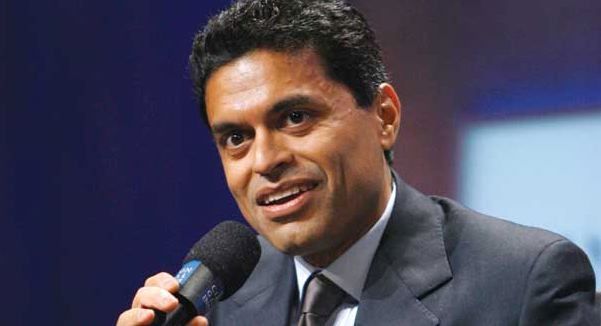 On Thursday, CNN and Time Magazine announced that they had lifted Fareed Zakaria's suspension from both the network after internal reviews.
Zakaria, a journalist for both the cable news network and the weekly publication, was suspended earlier this week after he admitted to lifting a paragraph from a New Yorker article. "Media reporters have pointed out that paragraphs in my Time column this week bear close similarities to paragraphs in Jill Lepore's essay in the April 22nd issue of The New Yorker," he wrote in response to the accusations. "They are right. I made a terrible mistake. It is a serious lapse and one that is entirely my fault. I apologize unreservedly to her, to my editors at Time and to my readers."
CNN and Time subsequently suspended him, but that was lifted after less than a week. "CNN has completed its internal review of Fareed Zakaria's work for CNN, including a look back at his Sunday programs, documentaries, and CNN.com blogs," the network said in a statement. "The process was rigorous. We found nothing that merited continuing the suspension."
Similarly, Time stated, "We are entirely satisfied that the language in question in his recent column was an unintentional error and an isolated incident for which he has apologized."
CNN's 'Fareed Zakaria GPS' will return on Sunday, with his next column for Time slated to appear in the September 7 issue.
What do you think? Are you glad Zakaria's back to work, or do you think his punishment should have been more severe?