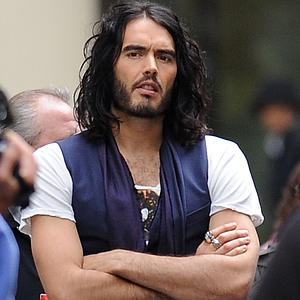 Can't get enough of Russell Brand? The good news is he's making his mark on America, and fast. Not only is the British comedian developing a cartoon with "Bob's Burgers" writers, but he's also planning a half-hour comedy program for FX.

According to a press release, Russell Brand's program will premiere in 2012. His statement not only shows his ecstatic feelings for the show, but truly demonstrates his comedy style as well. "I am so excited I'm on the point of climax, in fact I will put the "O" into FX, which spells FOX, which is actually the channel's real name," Russell Brand said. "That's the only thing that worries me about all this to be honest. At least I'll be able to have a Christmas drink with Bill O'Reilly."

FX is looking forward to the partnership. "We're very excited to add Russell Brand's bracingly funny, original, and honest voice to the FX comedy lineup," Nick Grad, Executive Vice President of Original Programming said. "We look forward to supporting Russell and his partner Troy Miller's ambition to strip down the hosted comedy format to its most fundamental elements and to create something daring and unfiltered for the FX audience."

With shows like "The League" and "Wilfred" drawing in high ratings, it's likely that Brand's vulgar sense of humor is a perfect fit for the channel. Will it be more like Louis C.K.'s "Louie" that documents his life, or "Wilfred" that is completely deranged that you can't help but feel awkward while laughing until your side hurts? There's no details available from FX at this point, but we can't wait to find out the premise!