NBC's "The New Normal" seems like it has something to say.
The title of the show suggests a reimagining of what "normal" is, but ultimately it's nothing new. Every character in the pilot is a cardboard cut-out from virtually every other family sitcom in history, there just happens to be a gender reversal in one case: there's the man of the house, David, and you can tell he's the man because he likes sports and beer and big-screen televisions and hates when his wife interrupts The Big Game. There's his wife, Bryan, who loves shopping, just can't wrap his head around those complicated electronics, and feels the pangs of motherhood. There's even a sassy black secretary!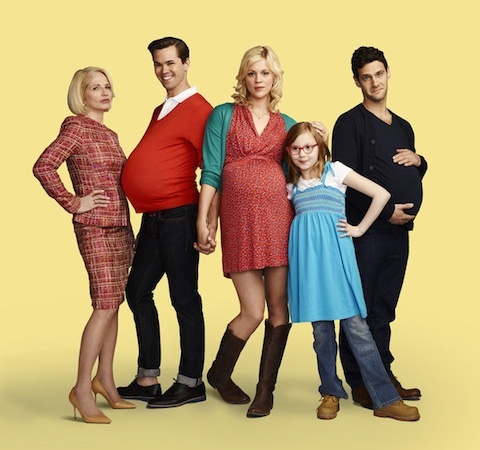 One would think perhaps that's the point the creators were attempting to make: that this time-tested cookie cutter sitcom formula is applicable regardless of social status, race, and now sexual lifestyle. However, that would fly in the face of much of the dialogue and situational humor in the pilot, as well as the scenes where a deaf couple, a little person, and an older, fertility drug-using mother offer testimonials on parenting and how there is, in fact, no such thing as "normal" anymore. "Abnormal is the new normal," as Bryan points out.
The positives of the show are few and far-between. Justin Bartha and Andrew Rannells have great chemistry as the show's leads, and their desire to start a loving family currently comes across as natural and real. Single-mom and surrogate-to-be Goldie (Georgia King) has an innocent "everybody is okay" likeability to her character that runs counter to the archaic way of thinking subscribed to by her overbearing, prejudiced grandmother, played with little comedic flair by Ellen Barkin. The overall feel of the show is oftentimes endearing and quite heart-warming, but ultimately the show fails in a key area: it's really not funny. For a sitcom pilot, that's kind of a dealbreaker, and trumps any attempt of conveying a message about society that "Modern Family" has already conveyed, only with the laughs that "Normal" lacks.
Overall, the pilot seems to have promise and potential, but makes a tepid debut that likely won't leave much of an impression on a saturated Fall TV season landscape. Given its placement on the struggling NBC, I have to wonder how long the shelf-life can be for a mediocre, sparsely-funny, potentially controversial sitcom can be.
Final grade: C-