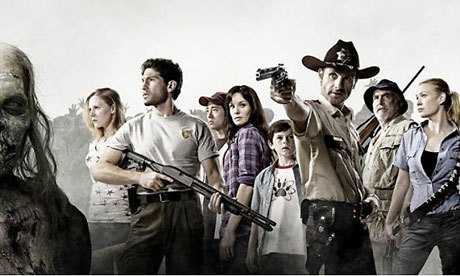 The Walking Dead has become one of television's freshest and most unique show over the course of the last year. And now The Hollywood Reporter are reporting that Robert Kirkman's acclaimed zombie series has seen the impact of the TV show's popularity with his graphic novels dominating The New York Times graphic novel bestseller list.
The latest edition of the newspaper's signature sales list shows that The Walking Dead holds an unprecedented three out of the top four paperback slots and three of the top nine hardcover spots.
There has never been a domination like this on the list, with the growing sales for Book 1, a sure indication that it is picking up new readers as well as holding onto it's loyal fans. The graphic novels collect the monthly comics series published by Skybound, Kirkman's imprint at Image Comics.
On the hardcover graphic novel list The Walking Dead owns the first, eight and ninth spots, with The Walking Dead: Book 1, a collecion of the first twelve issues holding the top spot followed by Book 2, at no.8 and the newest volume, Book 7, placed at ninth.
For the paperback list, The Walking Dead Compendium, which collects a whopping 48 issues in a volume that clocks in at 1088 pages, is no.1, Book , collecting just issues #1-6 in a softcover volume, is in the secon spot and Book 3 is fourth. Also, Kirkman's prose novel The Walking Dead: The Rise of the Governor, which charts the back story of the series' most famous villain, is no.18 on The Times' bestseller list for all books.
This coming July, Skybound/Image Comics will publish the landmark hundredth issue of The Waling Dead comic series and AMC's drama, which Kirkman works on as both a writer and executive producer, will return in Spring 2012.