The Hollywood Reporter has posted a new story about Mitt Romney and how his words have caused shows such as The Daily Show, The Colbert Report and The Rachel Maddow Show to see their ratings skyrocket.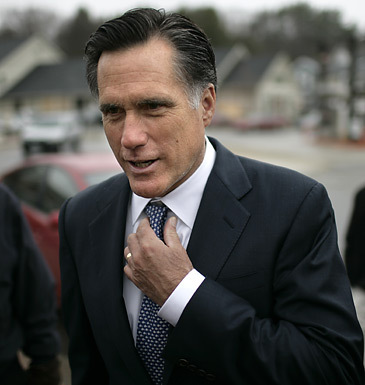 The tipping point in this appears to be Romney's disastrous "47 percent" comments, which have drawn wide-spread criticism yet reluctance from Romney to distance himself from them. It is normal for political shows to see their numbers surge during election season; it appears that the left is gathering around Romney's gaffes and interested in seeing him discussed.
"Ever since the Tea Party, there has been a huge enthusiasm gap," says news analyst Andrew Tyndall. "The Democrats are finally closing that."
MSNBC is enjoying the surge. It entered the 2012 race in a distant third-place among cable news outlets, but has started winning the target adults 25-to-54 demographic during the week of Sept. 17 to 21. Maddow's show and Lawrence O'Donnell's The Last Word drew larger than normal victories over the perennially dominant Fox News Channel's Sean Hannity and Greta Van Susteren at 9 and 10 p.m., respectively. Can these numbers hold? I doubt it, but who knows.
"There's no question that the interest, all around, went up," says MSNBC president Phil Griffin. "This campaign right now is so close, nobody who's interested in politics isn't tuning in."
Now, Fox News is still winning the full three-hour primetime block in viewers and the key demo. But these numbers have to cause some concern. The Republican debates and primaries didn't meet viewership expectations in numbers.  Griffin says there is a collective "Washington fatigue" that plagued networks for months.
"As an election year, overall, it's been a pretty disappointing season," he says. "The hangover from the debt-ceiling debate that took place a year ago August really put a chill on things, and you can see it in the overall aggregate number of all cable news. Viewers saw an ugliness in that."
Over on Comedy Central, its left-leaning The Daily Show with Jon Stewart and The Colbert Report received convention boosts. Both series went dark during the week after the festivities in Tampa, Fla., and Charlotte, N.C., but returned averaging 1.8 million and 1.4 million viewers, respectively, from Sept. 17 to 21.
HBO's Real Time with Bill Maher has enjoyed a bump, too. The show has improved on its 2008 pre-election ratings, with the Aug. 31 edition drawing its biggest tune-in since 2004 (1.4 million viewers for its first broadcast and 1.9 million including an encore that night). Real Time is averaging 4.1 million viewers.
"It is not in the least bit surprising that a bigger audience wants to hear what he has to say during this election cycle," says Michael Lombardo, president of programming at HBO.
It seems like the right gathers around "rah rah" speech better than the left does. Romney, in my opinion, was a poor choice to rally the party around. He has a lot of credibility gaps and holes. Chris Christie would have been a much better choice to rally around.