Parks and Recreation, Season Five, Episode 2 "Soda Tax"
Yummy, yummy soda. On tonight's episode of Parks and Recreation, Leslie Knope went all Bloomberg on us and tried to outlaw excessive soda usage in Pawnee. Particularly bothersome was the new 512-ounce child-size, which is the size of a liquefied child. However, Leslie learns that pushing the bill forward could cost 100 people their jobs, definitely not the start she wants for her new career as a politician.
I did not catch the first episode of the new season, but I think it was pretty easy to figure out where we are. Ben and April are in Washington D.C., away from their loves back in Pawnee. Leslie is adjusting to her new political role and the challenges that come with it. Ron Swanson is the greatest man who ever lived.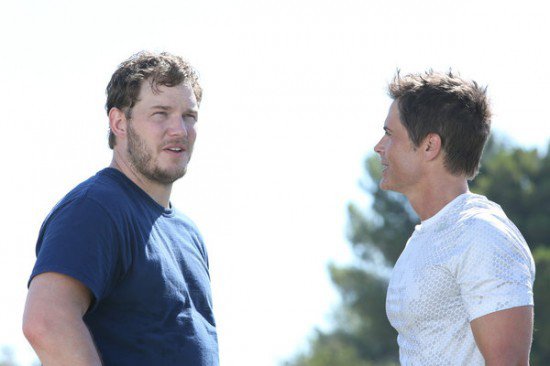 It is hard to see Adam Scott as anything besides his character from Stepbrothers, but he is so fantastically awkward as Ben Wyatt that watching him desperately try to win over his new office erases the egotistical jerk he is. While Rob Lowe does not do much for me, Scott is such a fantastic part of the Parks and Recreation cast and one I think could become a much more focal point.
We also learned that:
* Ben is rather anal about font sizes.
* Andy is great at butt flexes, and is chasing his dream of being a police officer - but underestimates (shocking, I know) what it will require to become one.
* When it comes to exercise, Andy is horrible. And he hates wearing clothes.
* The interns in D.C. do not think much of Ben.
* Water Zero has 300 calories, but Diet Water Zero Light has zero calories. So if you are counting calories, there you go.
* Gaining 100 pounds from sodas in a year can lead to 10 years without sex.
* Andy's love for April pushes everything he does.
* Chris exercises so his body does not destroy him.
* Honey Boo Boo and her family would fit right in at a Pawnee community forum.
* Exercising with Andy can ruin anyone's enthusiasm.
* Leslie needs to lay off the soda.
* Andy hit his minimum requirement. "Minimum Champion!"
* Tom speaks up to Chris and it makes sense and is good advice! Aziz is growing up before our very eyes!
* As always, Ron Swanson gives the best advice and makes things better. As long as none of the she-devil ex-wives are around, he cannot be stopped.
* Leslie follows her heart and does what she believes to be right.
* April will kill you. For real, in the scary way. Not the sexy way.
 Overall, not a great episode, but a solid one. I'd give it a B.