Parks and Recreation, Season Five, Episode 4 "Sex Education"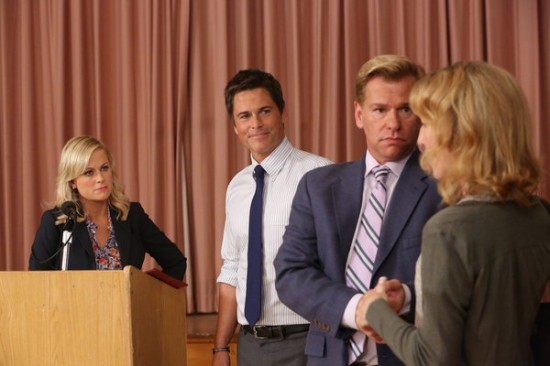 After a one-week vacation due to debates, Parks and Recreation roared back into our lives tonight just in time to teach us all about the birds and the bees. Sex education on NBC? I can dig it.
We start with Tom having a tough verdict rendered on his for Tweeting and driving - no Tweeting for a week. Will this break our hero?
We learn that there is an epidemic going on in Pawnee – the elderly are sex crazed, but uneducated. To prepare for dealing with this, Ann (who it is explained was at a dude ranch with her boyfriend last episode) helps role-play with the office. Leslie meets with the elderly and learns that they are all sexually active, including multiple partners (at the same time even!). Andy is stunned that old people have sex, thinking that they were all bluffing. The town's morality watchdogs find out about the seniors being taught such smut and race to the meeting. Apparently only abstinence is able to be taught in Pawnee, no matter the age.
Leslie rages against the machine after briefly considering teaching the watchdog's biblically-inspired pamphlet to the seniors. Condoms for everybody!
We cut to Washington D.C. and April is her normal charming, professional self. I feel like they are going a bit too far with her character's unprofessionalism. I'm still not entirely sure why she is in D.C. with Ben anyways. This storyline feels like a change just for change sake and those generally suck, in my opinion. Ann becomes convinced that a robot has shown up – wearing the disguise of a congressman.
The man of America, Ron Swanson, takes Tom out in the woods to teach him how to be a man and do some manual labor. Tom opens up to Ron about the websites he goes to and – well, I think TV Rage was named around the third hour of sharing. Yeah TV RAGE!! They go fishing, hunting, start a fire and sit around a camp fire until Ron can take no more and orders Tom to stop. Tom embraces his addiction to technology, but Ron shuts him down when they get too close to feelings.
Not a bad episode, but I thought they could have done more with it. Let's say a B. I hope this season finds a little more direction, sooner rather than later. It feels like it is floundering some now.