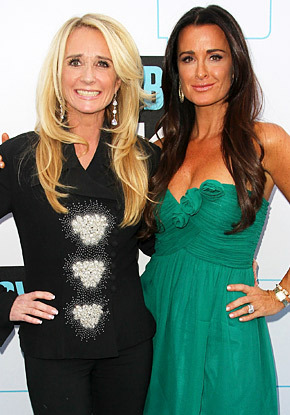 Alcohol recovery is never easy. Rumor mills were buzzing when "Real Housewives" star Kim Richards "checked out" of rehab yesterday. However, an insider told US Weekly confirmed that the reality star did check out.. For a short time.
Richards, 47, felt she was rehabbed and ready for every day life. Though she left she came back. "She is and was being very defiant and is obviously not having the easiest time." This is Richards' second stint in rehab since 2010. Her erratic, alcohol-induced behavior was documented on the Bravo TV show and eventually her family had enough.
RadarOnline reports that Richards was "stumbling and stuttering" at Thanksgiving dinner just before checking into rehab for the second time. A source told PEOPLE that Richards is feeling pressured by the show, but needs to stay on because "The Real Housewives of Beverly Hills" is her only form of income.
Richards' sister Kyle was the first to label her sister an alcohol at the end of season one, and her behavior only got worst during the second season. Co-star Brandi Glanville told Richards during the second season that she was "wasted out of her f-cking mind" during a game night. According to a source, Richards is not only seeking rehab for alcohol, but "other substance abuse" as well.
After the recent problems, Kyle and her three children, along with Richards' daughter visited the reality star at rehab. "They were all happy to see each other," the source said. The family is hoping that the recovery process sticks this time. "But every time is a new time, and everyone just hopes this sticks and that she gets the help she needs," the source said.