Wake up, boys and girls! The big day has arrived!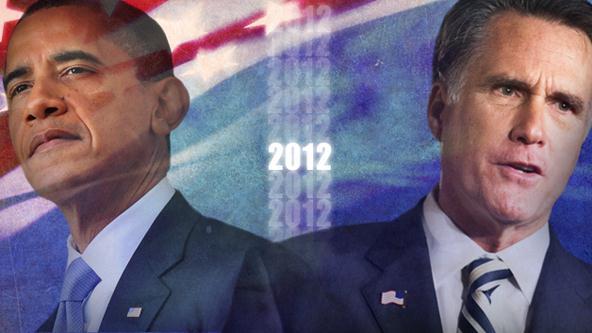 After what has felt like decades of campaigning, the 2012 United States Presidential Election is finally upon us. The nation will go to the polls today as President Barack Obama squares off against challenger Mitt Romney, and the broadcast and cable networks will be there every step of the way. Beginning around 7:00 PM Eastern, they are all set for a late night of reporting the results and then arguing about them.
Here is a collection of all available outlets and their plans for election coverage:

BROADCAST

- ABC will present ABC News Your Voice, Your Vote – Election Night Coverage, originating live from Times Square in New York City, with real-time results appearing on the big screens in Times Square. Diane Sawyer and George Stephanopoulos will host a special edition of World News with Diane Sawyer, beginning at 6:30 PM ET and continuing until at least 2 AM. A special edition of Nightline will air at 2:35 AM ET. The ABC team will include: Jake Tapper, David Muir, Katie Couric, Barbara Walters, Jonathan Karl, Ron Brownstein and Cokie Roberts, Josh Elliott, Amy Robach, Cecilia Vega, Sharyn Alfonsi, David Wright, Ron Claiborne, Univision anchors Jorge Ramos and Maria Elena Salinas, Deborah Roberts, David Kerley, George Will, Matthew Dowd, Donna Brazile, Nicolle Wallace, Pierre Thomas, Gary Langer, Martha Raddatz, Brian Ross, Richard Besser, and Bianna Golodryga.

- On CBS, Scott Pelley will lead seven hours of division-wide, multi-platform original reporting from 7 PM-2 AM ET. The team will use eight studios and three state-of-the-art control rooms. In addition, CBS Radio News will deliver at least six hours of live anchored coverage, updates, special reports and online feeds of the results. Team: Bob Schieffer, Norah O'Donnell, John Dickerson, Byron Pitts, Anthony Mason, Jan Crawford, Nancy Cordes, Dean Reynolds, Anna Werner, Elaine Quijano, Wyatt Andrews.

- Fox News Channel's Shepard Smith will anchor live coverage on FOX starting at 7 PM ET. Team: Ed Rollins, Mary Anne Marsh, A.B. Stoddard, Martha MacCallum, Bill Hemmer, Carl Cameron, Ed Henry, Alicia Acuna, Shannon Bream, Steve Brown, Mike Emanuel, Steve Harrigan, Molly Line, Doug McKelway, Dan Springer, Eric Shawn.

- Kicking off at 7 PM ET, NBC's Decision 2012 will take place from Rockefeller Plaza, transformed into a TV studio featuring a set modeled after the Oval Office and White House Briefing Room. NBC Nightly News anchor Brian Williams will host from "Democracy Square." Team: David Gregory, Savannah Guthrie, Chuck Todd, Peter Williams, Andrea Mitchell, Tamron Hall, Lester Holt,Tom Brokaw, Peter Hart, Bill McIntuff, Kristen Walker, Peter Alexander.

CABLE

- BET's coverage begins with 106 & Park at 6 PM ET, followed by a special edition of Don't Sleep! hosted by T. J. Holmes at 10 PM ET. Anchored by Ed Gordon, BET News' Battleground 2012: Vote Night will premiere at 10:30 PM ET. Team: Dorian Warren, LaLa Vasquez, Lenny McAllister, Pastor Jamal Bryant, Amy Barnett, Cornell Belcher.

- Bloomberg Surveillance with Tom Keene, Sara Eisen, and Scarlet Fu will kick off coverage on Bloomberg TV at 7 PM ET. Trish Regan comes on air at 8 PM ET with Economy Election 2012. Team: AL Hunt, Matthew Dowd, John Sununu, Neil Barofsky, Richard Falkenrath, Hans Nichols, Michael McKee, Julianna Goldman, Peter Cook, Megan Hughes, Carol Massar.

- CNBC will present a special two-hour edition of Squawk Box at 5 PM ET, anchored by Joe Kernen, Becky Quick, and Andrew Ross Sorkin. Beginning at 7 PM ET, Maria Bartiromo and Carl Quintanilla will anchor the network's primetime special Your Money, Your Vote with Chief Washington Correspondent John Harwood reporting. Team: Larry Kudlow, Steve Liesman, Rick Santelli, Tyler Mathisen, Eamon Javers, Michelle Caruso-Cabrera, Brian Sullivan, Hampton Pearson, Phil LeBeau, Scott Cohn, Mary Thompson, Jane Wells, Diana Olick, Kayla Tausche.

- CNN broadcasts America's Choice 2012 from Washington, DC, at 6 PM ET, featuring Wolf Blitzer and Anderson Cooper. Team: John King, Tom Foreman, Jessica Yellin, Dan Lothian, Brianna Keilar, Candy Crowley, Jim Acosta, David Gergen, Gloria Borge, James Carville, Ari Fleisher, Ana Navarro, Roland Martin, Margaret Hoover, Paul Begala, Van Jones, Alex Castellanos.

- For a different spin on election results, Comedy Central's The Daily Show With Jon Stewart and The Colbert Report will air live on both the East and West coasts. Stewart's Election Night 2012: This Ends Now (11 PM/8 PM PT) will feature early results and analysis, while Stephen Colbert's Election 2012: A Nation Votes, Ohio Decides; The Re-Presidenting of America: Who Will Replace Obama? '012! (11:30 PM/8:30 PM PT) will include a guest appearance by columnist Andrew Sullivan.

- Former Vice President Al Gore will lead Current TV's coverage beginning at 8 PM ET. He will host a roundtable with Jennifer Granholm, Eliot Spitzer, Cenk Uygur and John Fugelsang.

- On the Fox News Channel, Bret Baier and Megyn Kelly will co-anchor America's Election HQ starting at 6 PM ET. Bill O'Reilly and Greta Van Susteren will also be part of the special coverage commenting on results as they unfold. As an added bonus, Van Susteren will interview FNC contributor and former Governor Sarah Palin during the course of the evening. For the first time, Fox News Latino will stream live at 9 PM ET, hosted by Rick Sanchez in Spanish. Team: Brit Hume, Chris Wallace, Joe Trippi, Juan Williams, Karl Rove, Kirsten Powers, Stephen Hayes, Martha MacCallum, Bill Hemmer, Carl Cameron, John Roberts, Ed Henry, Wendell Goler, Alicia Acuna, Shannon Bream, Steve Brown, Mike Emanuel, Steve Harrigan, Molly Line, Doug McKelway, Dan Springer, Eric Shawn.

- MSNBC will have Rachel Maddow and Chris Matthews co-hosting its Decision 2012 coverage, kicking off at 6 PM ET. Team: Al Sharpton, Lawrence O'Donnell, Ed Schultz, Steve Schmidt, Chuck Todd, Tamron Hall, Melissa Harris-Perry, Chris Jansing, Alex Wagner, Chris Hayes, Ezra Klein, Michael Steele, Eugene Robinson, Victoria DeFrancesco Soto, Ed Rendell, Howard Fineman, John Harwood.

- Starting at 8:30 PM ET, MTV will employ newsbreaks throughout the evening, in addition to ongoing news coverage of Election Day on MTV.com. Ramping up the patriotism, the MTV logo on all of its channels in the U.S. will be colored red, white, and blue, and the network will run an ongoing message on the air that reminds young people to vote via the Twitter hashtag #GoVote.

- Carried nationally on C-SPAN, a special edition of Politico Live will originate from The Newseum in Washington, DC, beginning at 7 PM ET. The show will be augmented by further coverage on the political news organization's website. Jim VandeHei, John F. Harris, and Mike Allen host. Team: Maggie Haberman, Jonathan Martin, Lois Romano, Glenn Thrush, Juana Summers.

I'm surprised that HBO doesn't present its own live coverage, possibly hosted by Bill Maher with a panel of big-name celebrity guests. Maybe in 2016? As for 2012, I'll be sticking with CNN. They have the most amusing cast of characters and John King's magical touchscreen maps are so cool.

How will you be ingesting Election Night coverage?