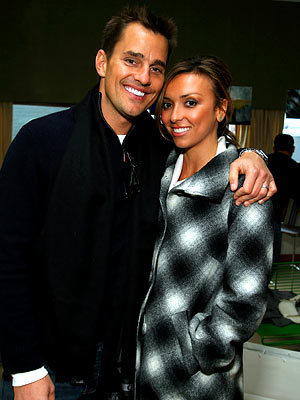 In December Giuliana Rancic announced she would undergo a double mastectomy to fight, and hopefully cure, her breast cancer. The reality star admits that she wants to be an inspiration to women fighting the disease, but fans of her show should not expect the fifth season of Giuliani & Bill to focus on her fight with the disease.
"We're going to touch on the cancer, but we're really not going to go heavy on it. It's a part of my life and we do a reality show, so it's there, but it happened when we first started shooting the season," Giuliana told Parade Magazine. "There will be a little more of it in episode one, but you won't see much of it in the rest of the season. That's not our focus. Our focus really isn't the breast cancer every day. Bill and I don't think about it as much as we used to. We have so much else going on in our lives that we didn't want to harp on it."
It's important that Rancic be an inspiration for other young women dealing with the disease because she wants women to know they can fight and beat the disease. "I just want to put enough out there on the show to educate young women. We all think we're invincible, and if I got diagnosed at 36, it can happen to them," she said. "I just wanted to put enough out there to really inspire women to be proactive about their health, but in no means is there going to be a lot of it. Quite frankly, I don't think anybody wants to see it anyway. It's pretty personal. We just didn't want to put too much of it out there."
Giuliani & Bill returns this summer on Style.