The 2012-2013 season has seen a slew of daytime talk shows with hosts ranging from Katie Couric to Jeff Probst. Comedian Steve Harvey has quietly been carving his own niche in the afternoon market, gaining strong enough ratings for NBC/Universal TV to renew "Steve Harvey" for a second season.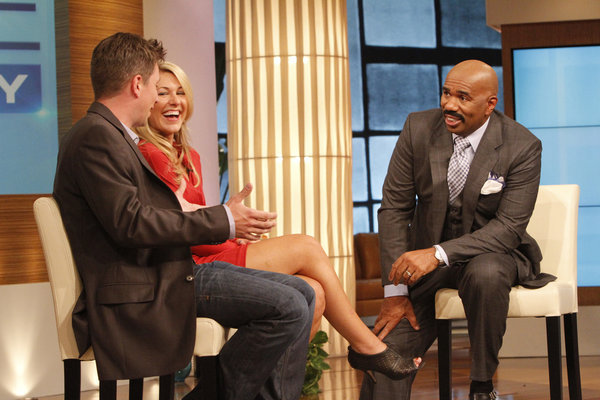 In its premiere season, "Steve Harvey" has been a power player in the ratings. During the November 2012 sweep, the talk show was the only one to increase its ratings compared to the previous year's timeslot perforamnce, while simultaneously building on its lead-in and serving as a good lead itself for Ellen Degeneres' show. "The instant success of 'Steve Harvey' with the daytime audience is being greeted with long term commitments from our station partners," said NBCU President Barry Wallach.
The news comes on the heels of Harvey taking home the "Favorite New Talk Show Host" at the 2013 People's Choice Awards last night. Harvey joins Couric as the second of the new talk shows to be picked up for a sophomore season so far.
"This project was a long time in the making and it would not have been possible without the incredibly talented Steve Harvey. His humor, honesty and insight were an immediate hit with the daytime audience," said David Goldberg, Chairman and CEO of Endemol, production company behind the series. "I am grateful to Rushion McDonald, Mr. Harvey's manager and longtime business partner, who has been instrumental from the beginning, and to Barry and his team at NBCU who put their full power and resources behind the show from day one. I must also commend Alex Duda, executive producer, for her talent and tireless commitment. She and her team made our out-of-the-gate success possible. We have a bright future to look forward to."