The tenth season of Bravo's "Top Chef" is winding down, as the final three competitors were further cut down to... well, three competitors, since the winner of "Last Chance Kitchen" will re-enter the competition next week. However, this week's eliminated contestant Josh Valentine in a sense went home a winner, and spoke with Entertainment Weekly about his experience on the show.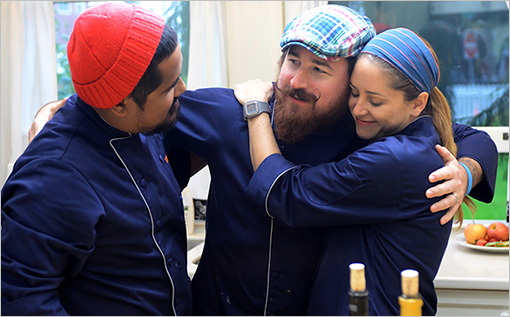 The elimination was bittersweet for the competitor, as even though he lost out on the chance at the show's grand prize, he went home to a prize of his own: a new baby daughter. On the same day he was taken out of the competition, Valentine's wife gave birth to a beautiful baby girl. The chef reflected on juggling the responsibilities of being in the cutthroat competition and those of a father. "That may be the hardest thing that I've done. As a husband, you want to do everything you can to be there for your spouse, and I wasn't able to. So it was really hard on me. I tried not to think about it as much as I could, but obviously that's always kind of lingering in the back of your mind, especially as we got further on in the competition," he said. "Once we got to Alaska, I knew my communication with her was going to be very limited, so I was kind of in the dark. And I finally got a hold of her and it was that time, so it was pretty challenging."
Valentine was one of the select few chefs who joined the season's transition from Seattle to Alaska for the final leg of the competition. "Alaska was beautiful, the scenery — it was really cool, and to be able to take a helicopter ride on a glacier was amazing, just to see that part of the world that's so untouched by man and by modern buildings and all this. It was really amazing. It was truly breathtaking. I think it was probably, aside from my daughter's face, it was probably the most beautiful thing I've seen," Valentine said.
With the remaining contestants Sheldon Simeon and Brooke Williamson (plus the mystery "Last Chance Kitchen" winner) set to shoot for the grand prize next week, Valentine weighed in on who he was picking to win. "For me personally, I'm probably rooting for Sheldon. I love all there of them. Everybody that's in it — Lizzie, Kristen, Brooke, and Sheldon, whoever makes it from Last Chance Kitchen — we all got really close," he said. "We were all the ones that kind of, aside from Kirsten, the rest of us went almost this entire journey together so we all became pretty close. But for me personally, I'm rooting for Sheldon. We're boys."
Who are you pulling for in next week's two-part finale?