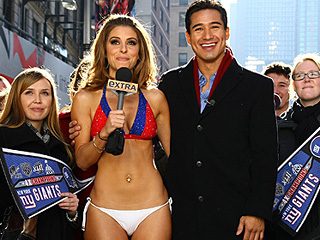 Mario Lopez and Maria Menounos can put their resume updates on hold a little while longer.
The duo, who co-host Extra, have a bit more job security this fine Tuesday afternoon after it was announced that the program, which airs on syndication and most NBC stations, had been extended through the 2016-2017 season. The show is already in its 19th season and is the second longest-running entertainment news magazine in America, behind Entertainment Tonight.
The show will be changing a bit, as it tries to stand out among its peers. The program will become more "interactive," with "events" planned such as filming at locations such as The Grove shopping mall in Los Angeles.
"Extra has over the past two decades established itself as a brand known for delivering advertising-friendly, consumer-engaging entertainment and pop culture news day in and day out," Warner Bros. Domestic Television Distribution president Ken Werner said.
Hilary Estesy McLouglin, the Telepictures Productions president, added that, "At the heart of Extra's enduring success is its first-rate storytelling driven by its top-notch talent and producing team, led by the one and only Lisa Gregorisch. And the show has now evolved into a daily 'event,' bringing a unique perspective to the most-talked about topical stories across pop culture while on location wherever news is breaking."