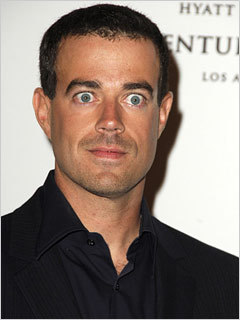 While the seas of NBC late night may be undergoing a lot of turbulence, the network has thrown one buoy floating in place: Carson Daly (my apologies, I have Deadliest Catch playing in the background).
Daly's show, Last Call with Carson Daly, has been renewed for a 13th season by the network.
"We are thrilled to continue our relationship with Carson who has broken the mold, creating  his own unique late-night show format with Last Call," said NBC president of alternative and late-night programming Paul Telegdy. "The show has  become a platform for emerging artists – and Carson's engaging interview style has made it the place for insightful conversations with an eclectic group of new stars as well as established icons and news makers."
The show airs at 1:35 a.m. on weeknights (meaning I have never seen it) and is the youngest-skewing weeknight late-night series on broadcast networks. 
"I'm extremely proud of what we've accomplished with Last Call," said Daly. "I love coming to work every day and having the opportunity to collaborate with this incredible team. We are always looking to give viewers something new and fresh that they can't find anywhere else on television. I'm grateful to have the chance to continue doing what I love the most."
Good news?