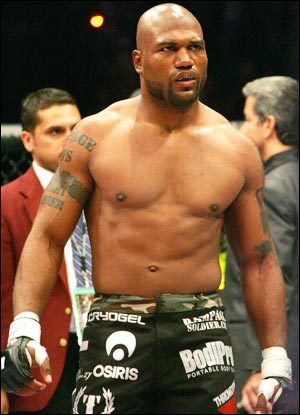 Spike TV is going all in on former UFC superstar Quinton "Rampage" Jackson.
The network has signed Jackson to a multi-year deal that will see him appear in Bellator Mixed Martial Arts as well as TNA Wrestling.
The deal is similar in nature to the one signed by "King Mo" Lawal with Spike TV. In addition to Bellator and TNA Wrestling, Jackson will be getting his own reality series which will show him preparing for his Bellator debut.
"Rampage is a true superstar both inside and outside the MMA cage" said Bellator CEO & Chairman Bjorn Rebney. "The partnership that we've created with Quinton is unlike anything that's ever been done in the sports & entertainment arena and Rampage is the perfect athlete/entertainer to carry it off."

"Rampage is one of the best known MMA fighters competing today," added Dixie Carter, the president of TNA Wrestling. "He is a true cross-over star and his talent, big personality and popularity among a wide range of fans make him an extraordinary fit for our company."

"We are thrilled to create this opportunity for one of the greatest athletes and personalities in MMA," said Kevin Kay, Spike TV president. "Rampage is a proven ratings driver who brings incredible star power to both Bellator and TNA."
In addition to fighting in UFC, Jackson also appeared as B.A. Baracus in the 2010 film "The A-Team."
Think this is a good move for everyone involved?