Tonight at 9:00pm EST on HBO, HBO Documentary Films presents their latest feature, 'Pussy Riot: A Punk Prayer.' The documentary tells the story of three members of Pussy Riot, a Russian punk rock group dedicated to socio-political goals of freedom, feminism, LGBT acceptance, and other ideals. Ostensibly, the documentary follows the arrest, trial and sentencing of these three artists. As you watch, however, you realize that this isn't only the story of three embattled musicians, but of a confused nation struggling to find balance between fears of their revolutionary past and a desire to march proudly out of oppression.
'Pussy Riot: A Punk Prayer' opens with a famous quotation from Bertolt Brecht: "Art is not a mirror held up to reality but a hammer with which to shape it." It is a bold move on behalf of directors Mike Lerner and Maxim Pozdorovkin to invoke one of the 20th Century's most impressive, influential and outspoken artists--even more so when you consider that Brecht was a stalwart Marxist. The opening quotation serves to align the viewer's expectations of Pussy Riot's art with the robust political commentary and informed expression of Brecht's legacy; while this is indeed a tall order, I am pleased to say that the artists of Pussy Riot deserve the comparison and surpass expectations.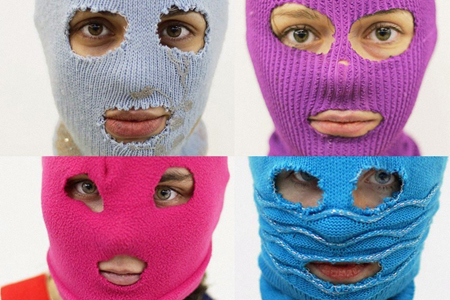 That is not to say that these women are Marxists, as Brecht was; this is not the case. They are not professed atheists, nor are they purporting anarchism. They are, however, feminists--and just what is so scary about that?
At first glance, some of you may see photos of women wearing balaclavas and the words 'Pussy Riot' in the title and be put off. I hate to say it, but that is the point: this is a punk movement, imbued with all of the political awareness and in-your-face sensibility of similar movements in the UK and the US. But, as they briefly touch on in 'Pussy Riot: A Punk Prayer,' punk never reached Soviet Russia; the USSR would not abide such a grassroots movement to persist in their streets, on their radio. So on February 21, 2012, when members of Pussy Riot entered the Cathedral of Christ the Saviour of the Russian Orthodox Church to stage a musical protest against President Putin, it was a piece of performance art that would be standard in North America but was unlike anything Russia had ever witnessed.
Three members of Pussy Riot were arrested following the February 21 performance: Nadezhda Tolokonnikova, Yekaterina Samutsevich and Maria Alyokhina. The interviews and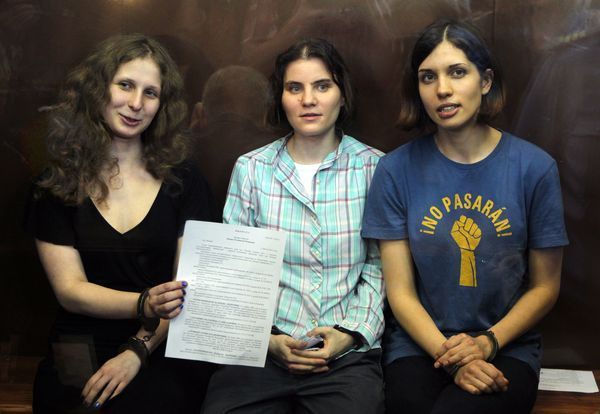 prepared statements from these three women make up the very best parts of 'Pussy Riot: A Punk Prayer.' The passion and insight proffered in their words exceeds that of most artists and politicians, offering a very moving and inspirational call to cast off the mind-forged manacles of social oppression, wherever it is found. But these three women are not the only characters in our story.
We meet the families of the incarcerated trio, as well. The film offers interviews with the fathers of Tolokonnikova and Samutsevich, beaming with pride for their offspring, standing strong through their ordeal. These women are feminists, not to be confused with misandrists; they do not hate men, they simply--and justly--see themselves as equals to them. We hear from the trio's attorney, as well as the state prosecutors, as opinions are expressed, views are shared... but the overwhelming notion that I felt, as a Western viewer of this documentary, was that I could not believe how much of an ordeal was being made out of a simple, brief musical protest.
That ordeal, of course, stems from the most deep and tragic character in the documentary: that of Russia itself. After the Russian Civil War and the consolidation of the USSR, anti-religious laws were passed within the Russian state. Separation of church and state was at the ideological heart of this legislation, however as years marched on the laws quickly became oppressive, refusing to allow people to worship a deity in the way they saw fit. As part of the 1921-28 anti-religious campaign in the USSR, the Cathedral of Christ the Saviour was demolished, having stood since 1860. The space where the Cathedral once stood was turned into a public swimming pool. In February of 1990, during the most tumultuous transitional period of Russian history since the Bolshevik revolution, the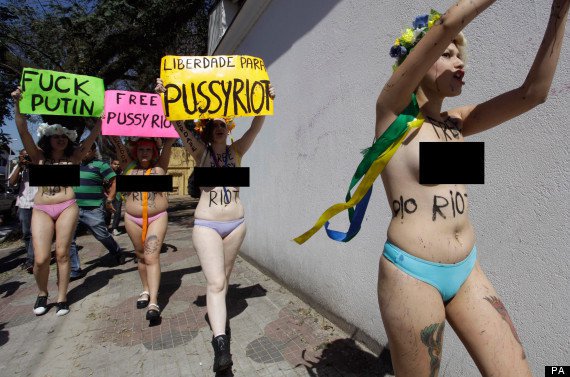 Russian Orthodox Church received permission from the state to rebuild the Cathedral; this makes the space not only a symbol of Orthodox worship, but also a symbol of religious freedom in the Russian state as a whole.
The information above is offered in order to shed some insight on the other side of this case--the side that wishes to punish three artists for daring to speak their minds in the wrong setting. The Cathedral was not targeted as part of an anti-religious campaign; Pussy Riot had previously staged impromptu musical acts of protest in department stores, in the Red Square. The Cathedral was simply the latest space to witness a Pussy Riot protest--but many Russians took it as an insult to Orthodox faith, or worse, a callback to the anti-religion movement of the Twenties.
It is a credit to HBO Documentary Films that all of the above is made available to the viewer in 'Pussy Riot: A Punk Prayer.' The prosecution against these artists is not demonized in the film; their opinions are stated clearly, in their own words. While the personal story of the women is offered, they are revealed by manner of offering a fuller picture of this movement, rather than by way of tugging at the viewer's heartstrings. And, perhaps most importantly, 'Pussy Riot: A Punk Prayer' allows the artists that band together under the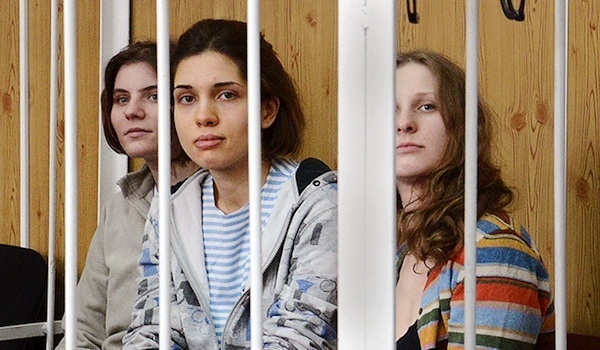 Pussy Riot banner to speak for themselves--something that the state and government of Russia attempted to prevent.

'Pussy Riot: A Punk Prayer' is a good documentary about an incredible trio of artists. The fact that artists were arrested in 2012 for staging a performance should be enough reason for those who believe in freedom of speech to become outraged. Tune in to HBO tonight at 9:00pm EST to see how the story unfolds and just how a very divided, almost schizophrenic Russian state struggles to deal with the ideals of three very intelligent and inspiring women.