Spike TV has greenlit and given a ten episode order for a reality series starring Adam Carolla called 'Catch a Contractor.'
Along with Carolla, a husband and wife duo, contractor Skip Bedell and investigator Allison Bedell will look after the best interests of homeowners. Carolla, Skip, and Allison will confront these deadbeat contractors, bring them back to their mess, and make sure they then do the job right.
Carolla is a registered contractor and also a carpenter. He has previously had a renovation show on TLC called, 'The Adam Carolla Project.'
The show's premise is similar to some existing concepts. Contractor Mike Holmes has different shows where he looks after the best interests of the homeowner through exposing shoddy work missed by a home inspection. 'Cowboy Builders' on the UK's Channel 5, has the same confrontational nature, where Dominic Littlewood and Melinda Messenger track down contractors who have left homeowners with a mess.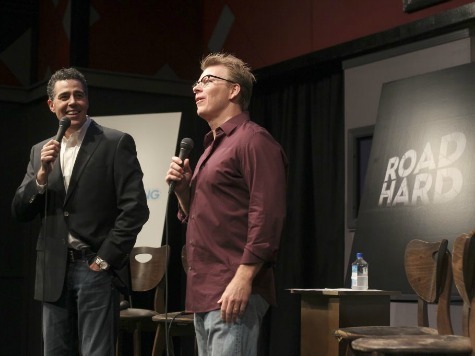 Unlike Dominic Littlewood—a man who looks like a little pitbull ready to attack—Carolla might engage contractors with sarcasm, and probing questions to entertain the viewer.  
Carolla—who started out with Jimmy Kimmel on 'The Man Show'—has had success with his radio talk show, and later, his podcast. His podcast has broken records for most downloads. He is also in the process of crowd-funding a feature comedy film called, 'Road Hard,' which recently hit the $1 million mark.
The new reality series will air on Spike sometime next spring.  
Are you interested in seeing Carolla in 'Catch a Contractor'?