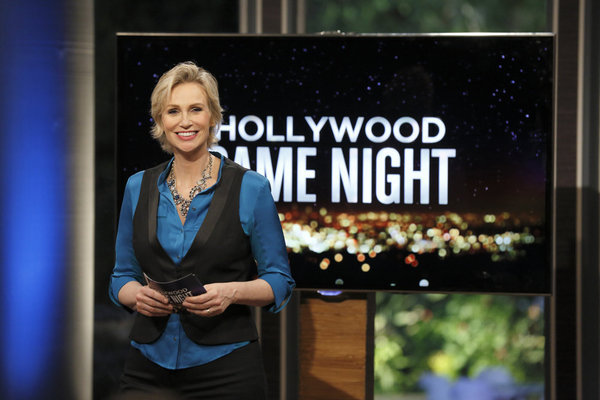 While it wasn't as big of a hit as some had predicted, the Jane Lynch hosted 'Hollywood Game Night' has still done very respectably for NBC. Thus, the Peacock has now granted the game show a second season of ten episodes, according to Deadline. The new batch of games will likely debut next summer.
For those unfamiliar, the show's premise is quite simple. Two everyday contestants compete to win a series of casual games. Each player is teamed up with three celebrities. The celebrities are competing for a charity of their choice, while the average joe/jane is (naturally) competing to win themselves a bucketload of cash. The civilian contestant from the winning team then gets the chance to try and win a cool $25,000.
The games themselves are fairly similar to those played on classic TV game shows. For instance, one game plays like a version of 'Password', while another plays like 'Concentration.' One of the oddest games is called "Picture Purrfect", and involves showing contestants movie stills where the actors' heads have been replaced with pictures of cats. The players then have to try and guess what film the image is from.
The varied line-up of celebrity participants in the first season included Kristen Bell, Martin Short, Stacy Keibler, Jason Alexander, Kristen Chenoweth, Kal Penn, Minnie Driver, and Terry Crews, just to name a few. As mentioned previously, the series is hosted by Emmy-winning 'Glee' star Jane Lynch.
Do you watch 'Hollywood Game Night'? Does it deserve a second season?