HBO's sleeper-hit series 'Boardwalk Empire' has changed a lot since its inaugural season. If you compare last night's fourth season premiere to episodes from the first installment, the tone and the focus of the series has shifted over time. Whereas 'Boardwalk Empire' has always been about Nucky Thompson (played to critical acclaim by Steve Buscemi), tonight's episode felt much more like an ensemble drama. Now that we've moved into 1924, the series' focus seems less about Nucky's empire and more about the lifestyle of the changing boardwalk itself.
The style of storytelling on 'Boardwalk Empire' has always been more novelistic than other dramas today; time passes between episodes, each show offers us the broader strokes involved in a much larger story. The pacing is reminiscent of HBO's short-lived series 'Deadwood' insofar as each character is given seasons to develop before the bulk of their story is revealed. The series has never been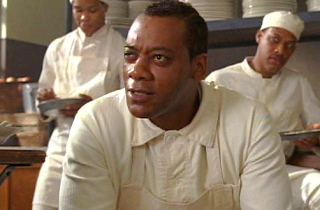 interested in pettiness--everything that happens entails grave consequences and not a single statement delivered between characters is thrown away. While some criticize the series for its slow pacing, you have to respect and admire HBO's willingness to play the long-game. As said, season four is a different landscape than season one, and the premiere does an excellent job of re-setting the chessboard for another go around.
Chalky White (Michael Kenneth Williams) has finished converting Babette's into the Onyx Club and we see Chalky and Dunn Purnsley (Eric LaRay Harvey) booking new acts for their nightclub shows. The series is moving into the jazz age, as the Onyx Club acts reflect; still, it is America in the 1920s and the racial tensions are only growing. One of the episode's three main plotlines deals directly with the racial tensions in Atlantic City, as Purnsley has an altercation with Dickie, a white talent agent who likes to use the 'N' word. Make no mistake: this fourth season, race relations in A.C. are going to be front and center. 
The next major thread revolves around Gillian Darmody, now seeking custody of her grandson, Tommy. Gillian assures the judge in her custody hearing that she is selling her large house in order to settle down and raise Tommy properly. This all sounds like a great plan... if you ignore the fact that Gillian is now completely addicted to heroin (thanks to being injected by Gyp last season) and is working as a cheap prostitute to support her bad habit. Gillian's arc has actually been one of the more fascinating stories over the course of 'Empire,' with the full picture of her character being withheld until the close of the second season; I was very pleased to see her storyline feature heavily, as she attempts to initiate the same bad cycle she had with Jimmy, only with his innocent son in his place. 
The third major thread of 'New York Sour' (the title of the premiere episode) surrounds... Al Capone and his brothers. (That's correct: none of the major storylines surrounded Nucky. More on that later). Capone (Stephen Graham), still working for Torrio, has brought his brothers in from out of town in effort to grab more of the Chicago action. An interesting tidbit is that Capone's brother Ralph is played by Domenick Lombardozzi of 'The Wire,' joining fellow 'Wire' alum Williams on 'Boadwalk Empire.' Season four could be the season where the Capone character gets out of Torrio's shadow and establishes himself as boss; the episode's storyline dealing with Capone wanting his name in the newspaper would serve as excellent foreshadowing. 
So, now that we're caught up, where does that leave Nucky Thompson? 
Nucky appeared in this episode in a scene with the other bosses (Masseria, Rothstein, Eli Thompson, etc.) in an effort to broker peace. Nucky doesn't want to expand, he doesn't want to step on any toes; he wants only Atlantic City. He is isolating himself... which is fitting, considering his character now lives alone above the Onyx Club, referring to himself as a bachelor. Nucky has removed himself from the bulk of the action and the episode revolves around others, accordingly. One gets the impression that Nucky won't remain dormant for long, however... 
As for Eli: his storyline may be bumped aside as well, in favor of his eldest son Willie (now played by Ben Rosenfield), eager to learn the business after helping out Nucky against Gyp.
As for setting up a new threat: Agent Knox is partnered with Agent Van Alden's old partner, Agent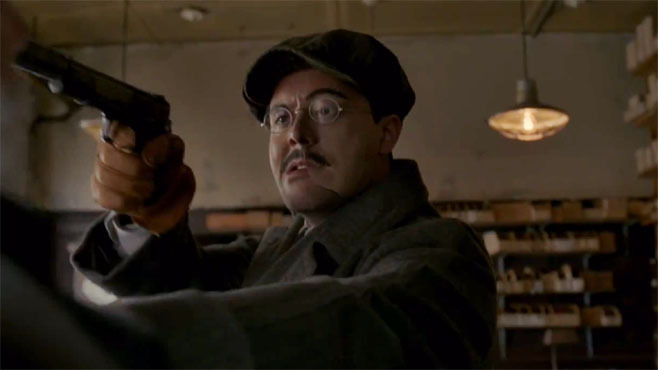 Sawicki. This proves to be bad news for Sawicki, as Knox isn't the chicken-friend idiot that he makes himself out to be. Knox is planning things and he looks more than prepared to take a large chunk of the bootlegging action in A.C... and perhaps more. 
'New York Sour' has set us up with new plotlines, a couple of new characters, and above all else an entirely new focus for the series. Oh--I forgot to mention that the episode is bookended by scenes of Richard Harrow, cutting a bloody trail through America settling old debts... until finally coming home and greeting his twin sister, Emma. Could Richard's be the only happy ending in store for any character on the show? Or will his happiness prove elusive..?