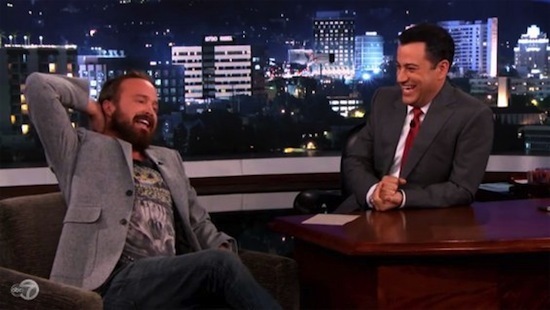 Jesse Pinkman may know a thing or two about chemistry, but real life actor Aaron Paul has a few hidden talents up his sleeve as well. While appearing on 'Jimmy Kimmel Live' earlier this week, the 34-year-old 'Breaking Bad' star revealed a rather unique gift dating back to his childhood days. And you're never going to believe what it is.
"Ever since I was a kid, I've always been able to tell the sex of a dog just by petting it," Paul revealed to the late night host. So naturally, this little talent had to be put to the test. While wearing a blindfold, Paul was presented with four different pooches and had to guess whether they were male or female.
Much to the audiences' delight, Paul was able to correctly identify all four dogs with no trouble, even exclaiming his answers in true Jesse Pinkman fashion, "That is a bitch!" or "This one's got balls, bitch!" Impressive and also just downright hilarious. And here we thought it was impossible to love this guy more than we already do.
Check out the video below and watch how the hysterical acts unfold. Warning: vast amounts of Aaron Paul swooning is not only possible, but highly probable.
'Breaking Bad' will air its final two extended episodes on Sunday, Sept. 22 and 29 at 9/8c on AMC.