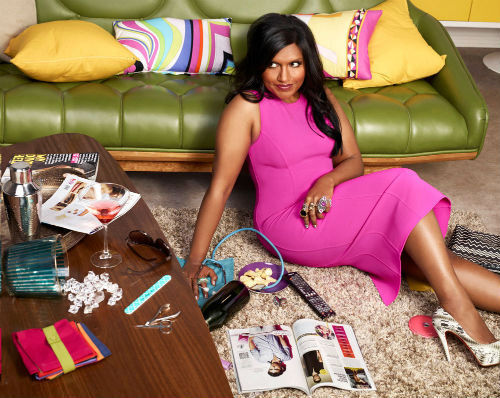 We all have one. That one TV character who you would totally kick it with if they were, well, real. I'm talking about the TV BFF. Our sitcom soulmate. Our cable series compadre. I happen to be a very choosy individual, so I can't just pick one TV BFF, hence the reason why I created this column. Each week, I will break down the pros and cons of every TV character that I imagine would be the perfect pal to tell all my secrets to while sipping cocktails at our fave watering hole. That one person who could tell me that I have spinach stuck in my teeth, and I know she's doing it because she loves me and not because she's being a jerk.
This week's BFF: Mindy Lahiri.
Of course the majority of you discovered Mindy Kaling (Mindy Lahiri's creator and portrayer) on 'The Office.' I did not. Unlike you band-wagoners, I've been following Kaling since she first came onto the pop culture scene via 'Matt and Ben,' her hugely successful one-act play that premiered at the New York International Fringe Festival in 2002 before it headed Off-Broadway (and, yes, it was about that Matt and Ben). So, obviously, I'm a legitimate fan, because I knew her from her squalor days, and therefore, you are not.  
Did you see what I just did there? I went into my Mindy Lahiri 'tone.' Mindy's voice is just one of the reasons why I wanna hang out with this chick. She's sassy and smart and girl's gotta wicked shoe collection…Anyway, here's the list.
PROS
Girlfriend Tells It Like It Is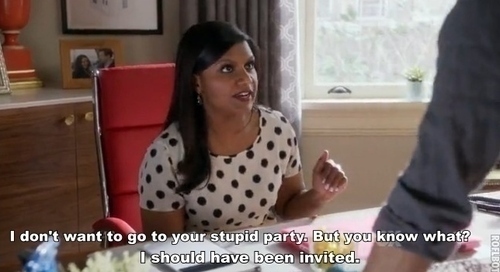 Last month, The Atlantic put out a piece on how Mindy needs to stay unlikeable, because it made her character more three-dimensional. The pub cited that Mindy is "disposed to gossip, blasé about the environment, religious when it's convenient, materialistic, often selfish, occasionally dishonest," but, that, really "she's not that different from many of us, if we're being honest." That's why I heart her. Girlfriend keeps it real 24/7 and we all need a friend like that.
She Loves Romantic Comedies
Since the pilot episode – when Mindy juxtaposed her life's events to momentous scenes in famous rom-coms – we knew that a little bit of Nora Ephron goes a long way to capturing Mindy's heart, and again, if we're just being honest here, I think most women can attest to that. I know I definitely can. Sure, rom-coms are hokey and obsessed with happy-endings-only, but if you don't tear up when Meg Ryan tells Tom Hanks "I hoped it was you" at the end of 'You've Got Mail,' then you're surely dead inside. Right, Mindy?
She Loves Her Bod The Way It Is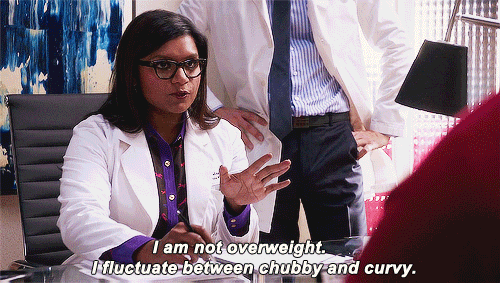 Someone who says, "I have the right to life, liberty and chicken wings" is my kind of friend. Whether it's sour straws or pizza, Mindy is not afraid to chow down and that's my kind of gal pal.
She Wants To Name One of Her Future Babies After Me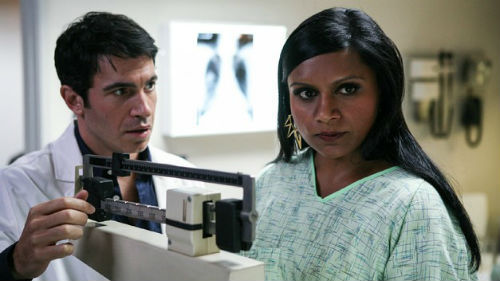 Okay, okay. Maybe, technically, she doesn't want to sire one of her babies after me personally, but she did tell Danny once that: "I do want to have kids, four of them: Jaden, Madison, Brie, and the little one is Piper." And, well, everyone who really knows me (like in a BFF-way) totally calls me 'Brie.'
CONS
She Can Be A Little Mean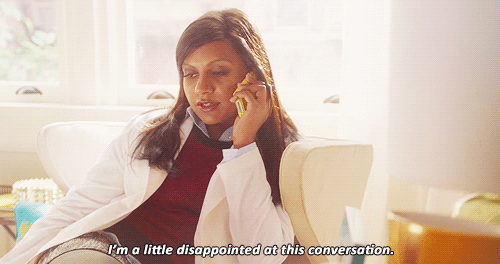 As much as I dig the sass, Mindy's mouth can be borderline nasty at times. Like when she told Morgan that his secret was safe with her because, "I don't care and I'll probably forget." I'm all for honesty, but sometimes you've gotta tell your friends what they want to hear in order to be friendly. And Mindy doesn't do 'friendly' very well.
She's A Little Too Obsessed With Getting Married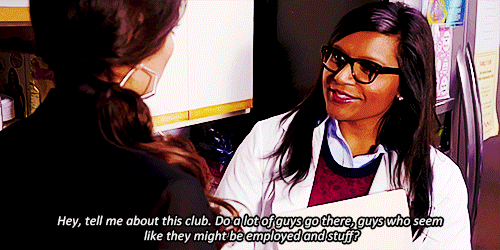 I'm all for sharing your life adventure with someone awesome, but Mindy can be a little obsessed with the thought of dying alone. She's this cool and successful OB/GYN with amazing friends, yet still feels her life is incomplete without a husband. I don't know if I could deal with someone who's concerned about what she doesn't have rather than what she does have.
Consensus:
Even though Mindy doesn't like cats or tapas (who doesn't like small animals or small portions?), I think Mindy and I would bond over our shared love for tabloids and sappy movies. One thing I know for sure: we'd have one hell of a slumber party.
'The Mindy Project' airs Tuesdays on FOX at 9:30/8:30c.