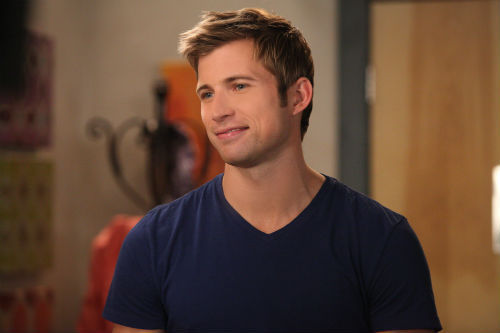 Justin Deeley isn't only known for those rock-hard abs he showcases in basically every episode of Lifetime's 'Drop Dead Diva,' but he's also recognized for playing Jane's hilarious guardian angel Paul. With the 'Diva' Season 5 finale right around the corner (it airs this Sunday!), Deeley was nice enough to open up about the finale, what we can expect from Paul and working more with Lex Medlin.
TVRage: First, congratulations on 'Drop Dead Diva' getting renewed for Season 6!
Justin Deeley: Yes, thank you. We're very, very, very excited. At least for me, it came a little soon. I was really shocked. Not necessarily that it got picked up, but that it happened so soon, which is great. I'm just excited to go back … and work with everybody, because everybody is so creative, and be back in Atlanta. I can't wait for Jan. 6. That's when we start.
TVRage: So, we can expect to see Paul next season? He won't be going anywhere, will he?
Deeley: Nope. Well, as far as I know, Paul's gonna be around. Paul's gonna be there.
TVRage: We know how easily the show cycles through guardian angels, so you never know.
Deeley: I do know that, but I'll be there.
TVRage: What was it that attracted you to the character of Paul?
Deeley: The childlike spirit that he has [and] that he carries. … I, certainly, have it as well. It's fun to be able to tap back into that six-year-old feeling of being so excited all the time. I just thought the sky was the limit for what he could do. I think that was the strongest influence for me reading for Paul.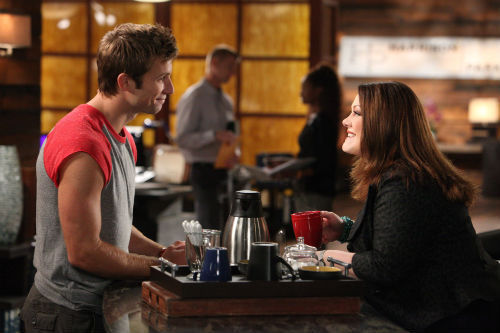 TVRage: This Sunday is the 'Drop Dead Diva' season finale. What can you tell us about the episode?
Deeley: What was great for me -- one of my favorite scenes that I shot all season was in this episode -- there's a scene in the very beginning of the episode where we're all eating breakfast -- Paul, Jane [Brooke Elliott], Stacy [April Bowlby] and Jane's mother [Faith Prince]. To watch those three work together, and the energy they came with, I can't wait to see that on [TV]. It might just be a blink of an eye and the scene is over, but it was just so much fun for me to shoot, and to be with everybody, and to see the chemistry between all the ladies. Plus, I got to eat, which when you get to eat in a scene it's pretty fun. I was eating an egg-in-a-hole. This is a real thing. It was great. I didn't even know what it was. … A lot happens, obviously it being a finale, there's not too much I can say without giving it away. I will say, this was also a fun episode for me, because, again, this is the full circle of Paul really being by Jane's side. You know, when he came to the show he was sporadic and he was all over the place and he was like a kid at Christmas, he just couldn't get enough of life. This back end of the season he refocuses his energy on being there for [Jane], and I think that's what this episode is for Paul.
TVRage: Compared to Jane's other guardian angels, Paul is a bit more lenient and fun, especially in helping her with Grayson. Will there be consequences for his actions?
Deeley: The brilliant mind of Josh Berman will answer that for you in Season 6. But as far as Paul's concerned, and he said it in Episode 9, when he said you know I really don't care. He doesn't care, because there's never a more cliche and also true statement that life is just too short, and worrying about getting in trouble about something like going after someone that you love. If there's a consequence to it, it's like, well, you know what? It was for the best. I would rather spend, there's a country song goes, I'd rather spend years off my life, than live life off my years. I think that's kind of his mentality. It's go on with your life, and if something happens, if there's a consequence to it, just learn from it and move on. For Paul, then he's going back to heaven. What's heaven? I mean, hey, what's gonna happen up there? (laughs)
TVRage: What would you like to see happen for Paul in future episodes?
Deeley: I would love in Season 6 to get more scenes with Owen [Lex Medlin]. The two of us have a lot of fun together. You know, because Lex is so funny. It's not that I don't love working with ladies. I love it, and these ladies on the show are beautiful. I love every one of them to death, but comedy changes a little bit when you work with a guy. So, it's just different energy. I was very pleased with how it came out. When you do comedy, it's all about playing around and being free and that's why I love working with Brooke so much, and April, because they're so free physically, and they've taught me so much about comedy. To get to work with Lex, who's done all kinds of work in his 20 some odd years in this business [would be great]. For Paul, I think it would be fun to see him deal with that masculine energy.
Be sure to catch Deeley in the 'Drop Dead Diva' Season 5 finale this Sunday at 9/8c on Lifetime.