Hello all! Chances are if you're reading this it means you, much like myself, are addicted to TV. You just can't ever get enough of that small screen action! Well, I'm here to tell you that I feel your pain and would like to help you in your noble quest for TV knowledge, which is why I've taken it upon myself to create this fun, weekly feature. Every week, I will dig up new and interesting facts about a show and share them with you right here. So sit back, relax, and let the trivia madness commence!
Let's kick off this week with a fang-tastic show full of intriguing story lines and a bevy of supernatural eye candy. I'm, of course, referring to 'The Vampire Diaries.' No compulsion necessary when it comes to watching this show. Whether we're pondering the many numerous love triangles or simply relishing in the glory that is the Smolderholder, this series never fails to keep us on our toes as well as seriously expand our supernatural vocabulary. (Guess who finally learned how to spell doppelgänger? This girl!) But there's still so much to learn about our favorite Mystic Falls residents, which I'm (AB)positive you'll find extremely interesting. Such as…
Did You Know:
1. Many cast members are fluent in other languages.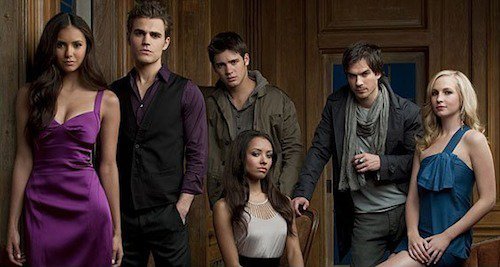 Nina Dobrev is actually Bulgarian and can speak the language fluently, whereas Paul Wesley can speak Polish. Additionally, Kat Graham is fluent in a total of four different languages (English, Spanish, French, and some Hebrew), given that her grandfather was a United Nations ambassador and exposed Kat to many different cultures from a very young age. And thanks to this season, we know Zach Roerig can work miracles with a Russian accent. *Swoon*
2. The pilot was shot in Vancouver, however, the rest of the series is filmed in Covington, Georgia.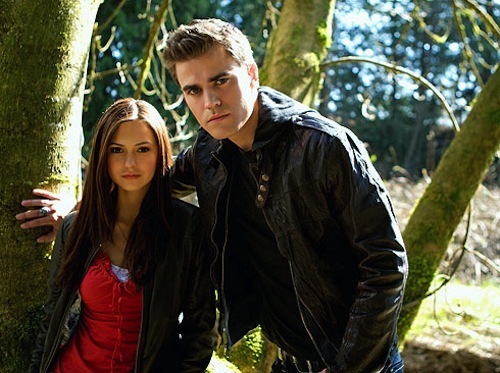 And believe it or not, some of the town's residents have expressed complaints in the past about the show's late night shoots and early morning start times. Personally, I don't understand the problem. They realize there's a bunch of hot guys on this set, right?
3. Zach Roerig, Michael Trevino, and Paul Wesley all originally auditioned to play Damon.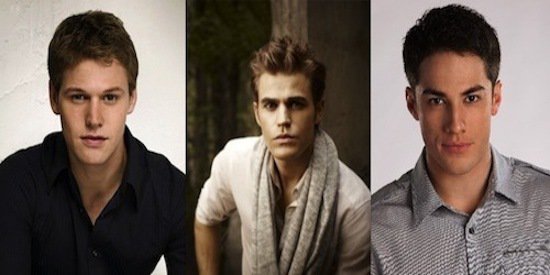 Sorry guys, you're all great actors and super dreamy, but I think we can all agree that no one stood a chance at this role when up against the Smolderholder. There's just no contest, amirite ladies? Ian IS Damon and no one else could quite do the role justice.
4. Nina Dobrev is six months younger than Steven R. McQueen.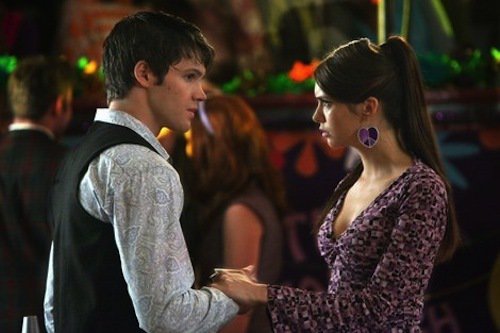 Sure, it's not the big of an age difference, but considering the fact that Elena is supposed to be two years older than Jeremy, it still makes for an interesting piece of trivia. Most importantly though, this proves that the actor is way above the legal age limit. Call me!
5. Stephen Amell auditioned for the roles of Mason Lockwood and Elijah.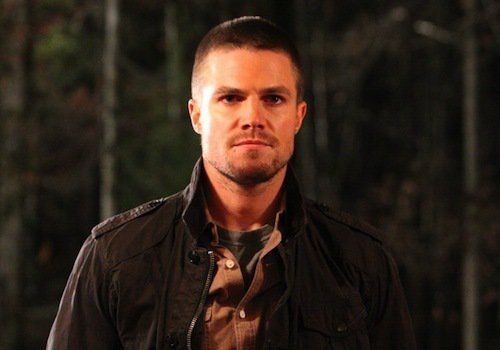 Though he didn't end up getting either part, the actor did make a special guest star appearance back in Season 2 as Brady, Jules' temperamental werewolf boyfriend. But nowadays, you probably recognize him as the hunky arrow-wielding vigilante on another CW hit: 'Arrow.' I guess it's true what they say…when one door closes, another one opens.
6. Ian Somerhalder and Joseph Morgan are both philanthropers.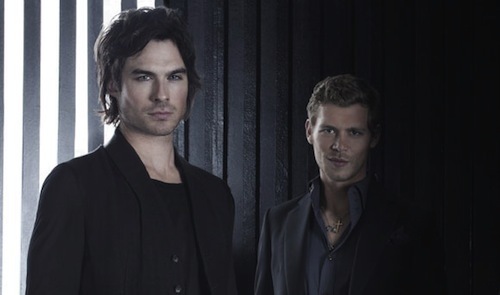 Not only are these hunky actors rather easy on the eyes, but they're both huge advocates of charities, particularly involving women. (Try to keep the swooning to a minimum, ladies.) Somerhalder and Morgan are well known supporters of group called Positive Women, a charity which aims to improve the lives of women and children affected by the HIV/Aids virus in Swaziland. Morgan even used the extra attention he received surrounding his birthday this year as a way to promote the cause and encouraged his fans to donate. Just when you thought it was impossible to love these guys even more.
7. Torrey DeVitto, who played Dr. Meredith Fell, previously auditioned for the role of Elena.
What makes this even more interesting is the fact that she was currently dating her future husband, Paul Wesley, at the time of the auditions. I wonder if that had anything to do with her incentive to be his leading lady. But given that they've now filed for a divorce, I'd say the casting decision probably worked out for the best.
8. Claire Holt and Phoebe Tonkin have worked together before.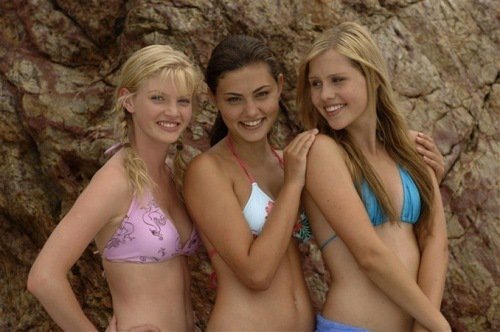 While their characters, Rebekah and Hayley, may have met in Mystic Falls and become fast BFFs on 'The Originals,' in reality these actresses have starred alongside each other on another fantasy series, 'H20: Just Add Water' (shown center and right). So I guess we all know what we'll be Netflixing next weekend. (Spoiler alert: they become mermaids, you guys!)
9. James Van Der Beek was considered for the role of Alaric Saltzman.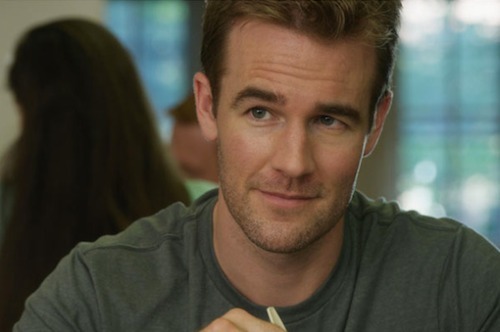 WHAT? Is anyone else having a mini-heart attack about this? Don't get me wrong, I love Van Der Beek in his own unique way (Dawson Leery shout out!), but he would have absolutely not been right for this role…like at all. Luckily, the casting agents smartened up and decided to cast the wonderful Matt Davis instead. Close call, everyone! Now let's all collectively breathe a sigh of relief.
10. Zach Roerig is a father in real life.
The actor has a two-year-old daughter who he just recently gained sole custody of since the mother, Alanna Turner, is currently serving jail time. So putting his questionable taste in women aside, let's all just sit here for a moment and relish in the fact that our adorable Matt is a daddy. I hope she inherited those magnificent blue eyes.
11. Ian Somerhalder auditioned for 'True Blood' before 'TVD.'
That's right, folks — before the role of Damon came into the picture, the actor had his sights set on another vampire-centric show entirely. But it wasn't a vamp role he was looking to nab. Ian had auditioned to play the lovable, but extremely dim-witted Jason Stackhouse, currently played by the gorgeous Ryan Kwanten. Since Ian is originally from New Orleans, he felt the character would be a great part for him. However, after bombing the audition, he was denied the role. It bothered him so much that he couldn't even watch 'True Blood' when it initially came out. Thankfully, their loss was our gain — and so Damon Salvatore was born!
12. Daniel Gillies, who plays Elijah, is married to Rachael Leigh Cook.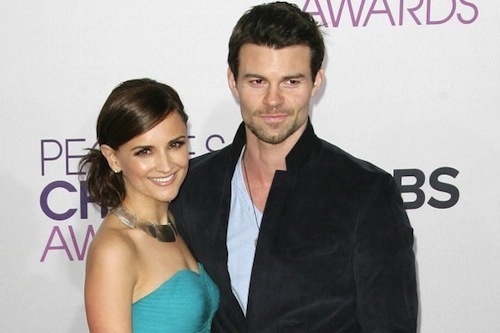 The couple were married back in August 2004, after less than a year of dating and share one daughter together, Charlotte Easton Gillies, who was born this past September. Is anyone else totally up for a 'She's All That'/'The Originals' crossover?
13. Neve Campbell was considered for the role of Isobel Flemming.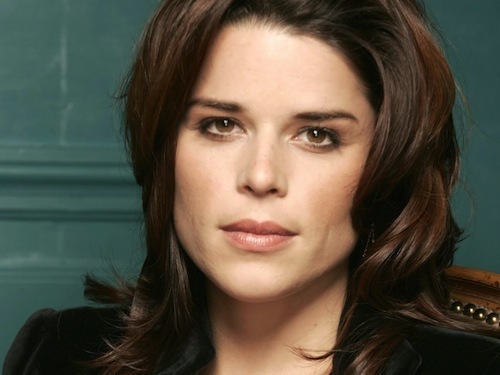 I'm actually kind of in love this idea and sad it didn't end up working out, since she obviously would've made an awesome vampire. Though my inner-'90s-teen finds it hard to believe the actress is old enough to play anyone's mother, let alone Elena's biological vamp mama. I feel old, you guys.
14. The love triangles don't just exist on-screen.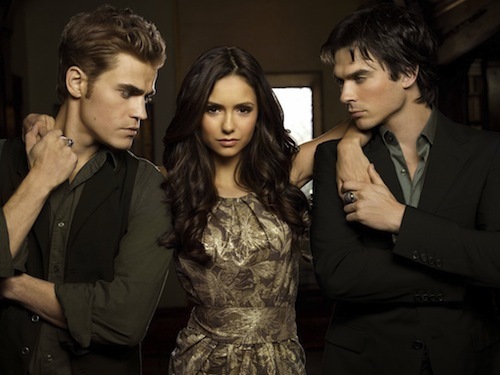 Many members of the 'TVD' cast have dated each other throughout the years. Zach Roerig (Matt) and Candice Accola (Caroline) dated in real life back in 2011, but have since split (the actress is now engaged to The Fray guitarist Joe King). Nina Dobrev (Elena) and Ian Somerhalder (Damon) sadly pulled the plug on their three year relationship last May, but still remain very close friends (with possible benefits). And as I mentioned earlier, Paul Wesley (Stefan) was married to Torrey DeVitto (Dr. Meredith Fell) during her time on the show, though the couple have now recently split. Wesley is now said to be dating yet another old 'TVD' vet, Phoebe Tonkin (Hayley), who is starring in 'The Originals' spin-off. Basically, it's like a supernatural soap opera on this set! Though I can't say I blame them. When you put so many beautiful people together in one place, they're bound to fall for each other.
I hope you enjoyed this week's installment of Facts From a TV Junkie. Check back next week for another fix!
'Parks and Recreation' < Previous | Next > Stay tuned!