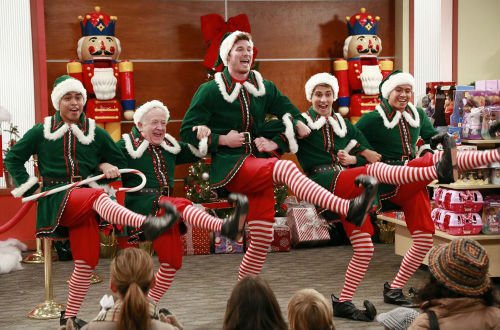 It's not the holiday season without ABC Family airing special holiday episodes, and that's exactly what the network is doing with its hit comedy series 'Baby Daddy.'
In addition to celebrating the "Ha Ha Holidays," the half-hour comedy is also showcasing the Christmas spirit in "Emma's First Christmas," where Ben (Jean-Luc Bilodeau) and Danny (Derek Theler) are on a mission to find the perfect present for Emma. While the Wheeler brothers are busy hunting down a toy, Bonnie (Melissa Peterman), Tucker (Tahj Mowry) and Riley (Chelsea Kane) are determined to have the perfect Christmas.
Per usual 'Baby Daddy' fashion, things get out of hand, and let's just say the holiday doesn't go as planned. After viewing a screener of the episode yesterday, here are five things you can expect from the Christmas special.
1. As shown above, not only do Danny and Ben show off their dance moves, but they also wear elf costumes for the majority of the episode. Who doesn't love men in striped tights?
2. Leslie Jordan guest-stars as an elf who helps Santa and who also has eyes for Bonnie.
3. Speaking of Bonnie, she's up to her usual craziness and won't relax until her Christmas is 100 percent perfect.
4. Both Tucker and Riley choose to celebrate the holidays with the Wheelers, but their gingerbread house and Christmas tree aren't up to Bonnie's joyful standards.
5. Danny may or may not believe that Santa's helpers are real elves.
From men in tights to crazy Christmas traditions to the spirit of Santa Claus to Ben realizing what's truly important, this 'Baby Daddy' episode incorporates all kinds of seasonal goodness.
The 'Baby Daddy' holiday special airs Wednesday, Dec. 11 at 8:30/7:30c on ABC Family, right after the 'Melissa & Joey' Christmas episode.