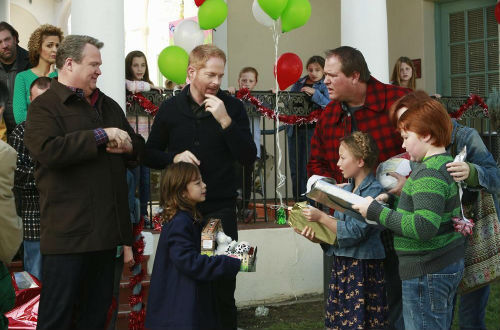 The holiday season just isn't the same without family and a few laughs. So, what better way to get into the festive and joyous spirit than by spending it with one of the most beloved families currently on the small screen?
Just who am I talking about? It's none other than Jay, Gloria, Manny, Joe, Phil, Claire, Haley, Alex, Luke, Cameron, Mitchell and Lily. That's right, the characters from ABC's hit, and award-winning, comedy 'Modern Family.'
This Wednesday, 'Modern Family' is getting into the Christmas spirit with its very own holiday episode, "The Old Man & the Tree." Last week, I was lucky enough to watch the episode, and let me tell you, not only is it filled with hilarious goodness (what else is new?), but it incorporates laughs, family, gifts, parties and jealousy all into one.
It just isn't the season of giving and perpetual hope without a family fight, last minute shopping and those struggling to make the merry time as perfect as can be. So, to hold you over until the episode airs this Wednesday, Dec. 11 at 9/8c on ABC, here are a few teasers!
1. For Phil fans, he may or may not spend most of the episode trying to get to Canada on an exercise machine. To understand what this means, you must watch the episode, and trust me, it's worth it.
2. Not only do Alex and Haley dress up as Mrs. Claus and an elf, respectively, but they have a touching sister moment.
3. In the midst of teaching Manny the important traditions of Christmas, Jay gets into quite the debacle with a Christmas tree.
4. With Gloria's mother in town, she causes even more rivalry between Claire and Gloria, and this time it's not as stepdaughter and stepmother, but as "sisters."
5. In per usual Cameron and Mitchell fashion, their holiday and party plans don't go smoothly. Let's just say while Mitchell shops, Cameron tries to teach Lily the goodness of giving back (you guessed it: this doesn't go as planned).
'Modern Family' airs Wednesdays on ABC.