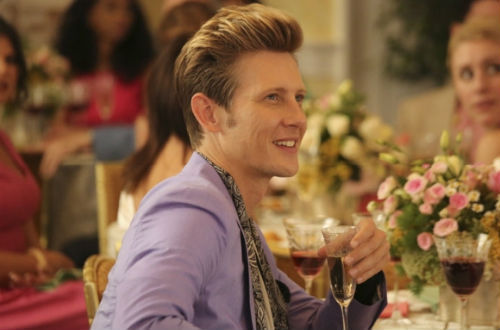 There is a lot of magnificent fashion to be seen on 'Revenge,' but one of the true highlights of tuning in every Sunday is to find out what in the world Nolan Ross will be wearing this time. Whether he's hosting a fancy Hamptons party, begrudgingly attending a charity event at the Graysons, or sneaking around being 'Revenge'-y for his pal Emily Thorne, he always manages to look amazing. Amazing in an often-completely-ridiculous, and sometimes cartoon-y way. But still amazing.
Gabriel Mann, the actor who plays Nolan, used to be a runway model, which explains why he is able to make all of these outfits look so good. Take a look at some of his most memorable fashion statements over the past three seasons, and here's hoping there are many more to look forward to in the future.
10. Season 1, Episode 6 "Intrigue" – The Classic Double Popped Collar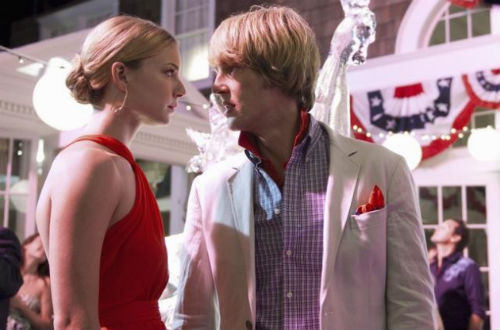 There is nothing Nolan Ross loves more than layering popped collars (except maybe a good pocket square.) Before he truly embraced his completely wackadoodle fashion sense, he dressed like a frat-boy-Joey-Tribbiani-as-Chandler-Bing (Could I BE wearing any more clothes?). He started off with polos, then moved on to button-downs, and eventually mixed the two. One imagines that so many layered shirts, often under a jacket or blazer of some sort, gets pretty sweaty during those Hamptons summers.
9. Season 1, Episode 8 "Treachery" – Lounging Attire
Of course Nolan has a silky paisley robe. Of course he does. Was anyone surprised to learn this? It takes a real man to wear a silk robe in the first place, let alone a paisley one. He somehow manages to look totally natural, and as comfortable as the rest of us do in our old T-shirts and PJ pants. And like everything else, he totally pulls it off. Even looking tousled in the morning, Nolan manages to be fashion-forward while chatting and scheming with Emily.
8. Season 2, Episode 16 "Illumination" – Sleek and Villainous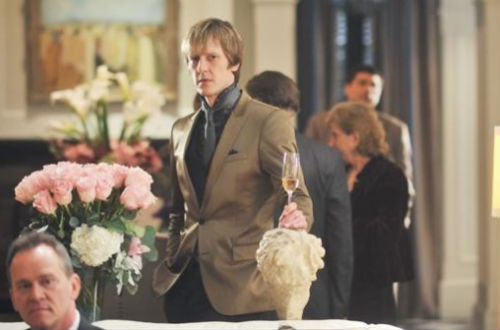 This is Nolan's supervillain look. The man isn't afraid to mix patterns and textures, and this flowered shirt/striped vest/shiny metallic jacket/polka-dotted pocket square combo certainly proves that. And let's talk about that necktie: It looks like a noose, and the tall, unfolded collar somehow makes it that much more intimidating. Don't mess with Nolan Ross, man. Even when he's at a charity event, for his best friend's dead alter-ego. (Sheesh, that noose might be to put himself out of the misery of keeping track of all of 'Revenge's confusing double-crosses.)
7) Season 1, Episode 17 "Doubt" – Rock Lobster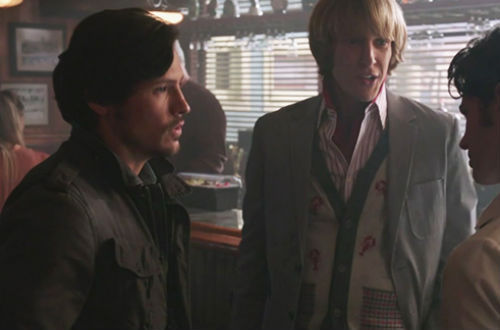 As another oh-so-subtle reminder that the show is set in the Hamptons beach community, Nolan wore this understated lobster sweater to talk to the brothers Porter at The Stowaway. Because what says "I'm trying to talk some sense into my friends at their hole-in-the-wall bar" better than LOBSTERS LOBSTERS LOBSTERS? Also, there's plaid pockets, in case we doubted just how precious this sweater and Nolan were. Paired with a perfectly unbuttoned striped shirt and a pastel jacket and boom -- another home run from Nolan.
6. Season 2, Episode 15 "Retribution" – Wedding Subtlety
The best part of this outfit is that for Nolan, this is understated wedding attire. He's officiating Jack and Fauxmanda's small beach wedding, so he chose his best toned-down mother-of-the-groom beige paisley. Because really, what is the appropriate wardrobe choice when you are officiating the wedding of your best friend's first love to the ex-stripper who has switched identities with said best friend? Subdued paisley seems to be the fashion-forward center-of-attention choice, but still appropriate for comforting your heartbroken BFF.
5. Season 2, Episode 20 "Engagement" - Black Hole Son
Nolan pulled out his most intimidating paisley to duel with Her Royal Highness Victoria Grayson. This jacket looks like your grandmother's '70s couch slowly being sucked into a black hole. The all-black shirt and pants only emphasizes the black hole motif, and we're worried that Nolan may be sucked into the black hole that resides where Victoria's heart should be.
4. Season 3, Episode 3 "Confession" – Oh Captain, My Captain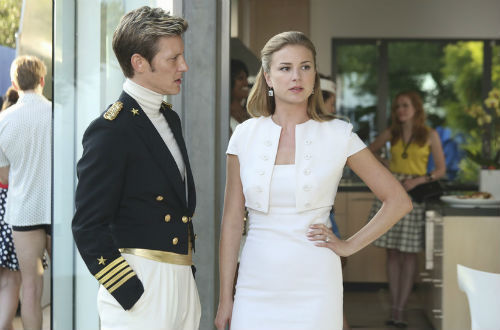 God bless Nolan Ross. Not only does he know how to throw one hell of a party, but he knows how to dress like the captain of 'The Love Boat' to welcome his guests to his new home. From the white turtleneck and pleated pants to the captain's jacket to the gold cummerbund, Nolan certainly knows how to put together a memorable outfit.
3. Season 1, Episode 1 "Pilot" – Painting The Hamptons Red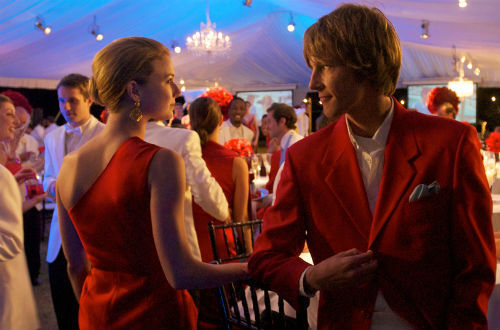 Our first glimpse of Nolan's tendency toward fashion rebellion was at Emily and Daniel's Fire and Ice engagement party in the series premiere. Everyone wore red and white to suit the theme, but Nolan wasn't about to blend in with all the other boring white-jacketed men at this classy Grayson shindig (including guest-of-honor Daniel Grayson,) looking like a bunch of waiters. Oh no. Instead, he sported some snappy pleated white pants, and a bright red jacket that matched his soon-to-be BFF Emily's one-shouldered dress. Thankfully, Nolan's distinctive wardrobe choice saved us the concern for his safety that would have resulted from the "dead white-jacketed guy on the beach" cliffhanger.
2. Season 1, Episode 1 "Pilot" - Captain Obvious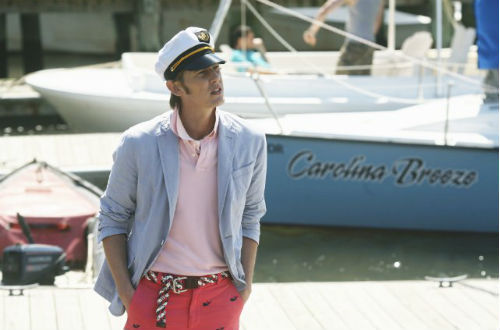 This outfit is everything. From head to toe, it is truly a masterpiece: Captain's hat! Double-popped-collar-polos! Baby blue blazer! Braided belt! And most importantly: BRIGHT PINK WHALE-PRINT PANTS. Nolan loves to dress for a theme, and he has really taken to the Hamptons beachside nautical theme. It's important to keep in mind that this is Nolan's very first appearance onscreen in 'Revenge': This is the first impression we get of our beloved Nolan. He certainly knows how to make an impression.
1. Season 3, Episode 3 "Confession" – The "Free Nolan" T-shirt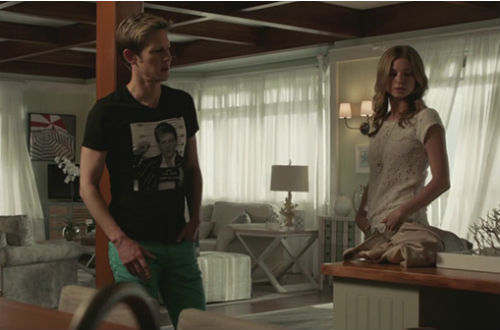 Truly the greatest of all of Nolan's wardrobe choices, Prisoner 9283237 went all meta when he sported a T-shirt with HIS OWN MUG-SHOT ON IT after busting out of the clink. And it's not just any mugshot: his "damn the man" fist pose makes this mugshot almost as badass as the man himself. And with the T-shirt now available for sale online, Nolan Ross has become a Che Guevara for our time. And what does one pair with a T-shirt bearing one's own mugshot? Why, Kelly green pants, of course! And, should we even mention how sharp Nolan looks even in his own mugshot? It's like Nolan Ross style 'Inception.'
But wait, there's more!
As an added bonus, here's a look at Nolan in his formal wedding finest. In this still from this Sunday's Season 3, Episode 10, titled "Exodus," it looks like Nolan will be standing in for the dearly departed David Clarke, to walk Emily down the aisle at her wedding to Daniel Grayson. Nolan may have a tendency toward wacky fashion, but he certainly dresses up nice when the time is right. Look at how sharp he looks in his tails!