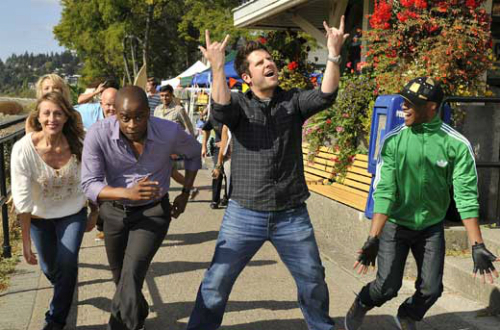 It's the conceit of 'Glee,' it was at the heart of the short-lived 'Smash,' and every so often it pops up on shows as a departure from the norm and a way to liven things up. It's singing.
Last night, 'Psych' aired its heavily-promoted two-hour musical spectacular, as Dulé Hill, James Roday, and company belted out songs while dancing away for an especially entertaining escapade.
This episodic aberration isn't entirely rare, but it sure isn't that common, particularly outside of animated fare. 'Buffy the Vampire Slayer' famously had a musical episode anomaly, as did 'Scrubs,' 'Fringe,' and 'Grey's Anatomy,' and 'Community' has done it several times in four seasons (once was with puppets, of course).
Other series will inevitably and eventually follow suit, but which ones should step up and take the spotlight? Here are my picks for shows that need to be musical-ized!
'House of Lies'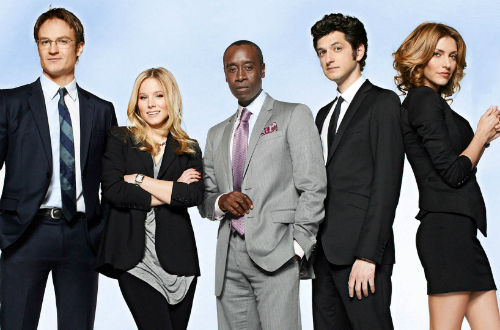 Firstly, Kristen Bell. She's a phenomenally-talented singer who recently showed off her pipes in Disney's 'Frozen.' Secondly….there doesn't need to be a secondly, because, well, Bell.
Still, if there needs to be another reason to make this darkly comic Showtime drama musical, two other members of the cast, Don Cheadle and Josh Lawson, have some experience – sort of. The network aired an outtake earlier this year in which the two lampooned 'Les Mis,' singing their lines instead of speaking them. Needless to say, the clip is pretty fantastic, and leaves us wanting more.
'Boardwalk Empire'
This period drama about gangsters and guns and wealth and politics may seem like a strange pick for a musical, but you know what else was set in the '20s and told of money and power? 'Chicago.'
That's right;  we're looking at tangos, jazz numbers, and there can even be a cover of 'We Both Reached for the Gun.'  What's more, not unlike Cheadle and Lawson, Steve Buscemi has dabbled in singing. Not only did he lilt at the end of 'The Wedding Singer,' but this past April he hung out with Vampire Weekend and had a go. He's ready.
'New Girl'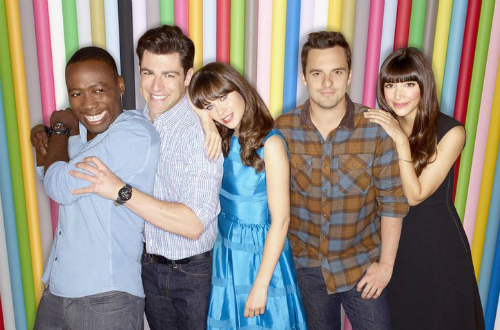 This is sort of a no-brainer. Zooey Deschanel's talents as a singer are no secret; she does the 'New Girl' theme song, for one. She has also showed off her voice in the beloved Christmas movie 'Elf,' and has since released four albums with collaborator M. Ward under the band She & Him.
Though her precocious, quirky routine may prove too much for some, 'New Girl' should do a musical, and she should star. In the end, it will probably look like an extended version of a She & Him music video, but that's really what we want, right? On top of all of that, we've seen Jake Johnson sing the theme song too, so we know he can keep pace.
'Castle'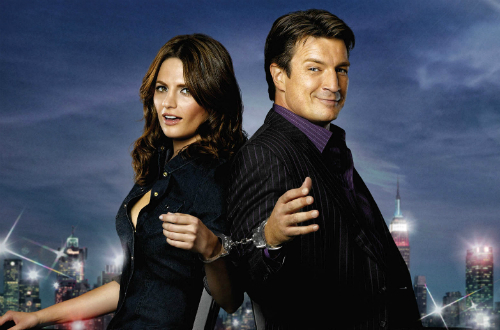 Here is another that would ride the skills and charm of its star. Nathan Fillion, the man who portrays the titular loveable and sarcastic mystery writer, can carry a tune and bust a move, having proven it often alongside Neil Patrick Harris (Emmys, 'Dr. Horrible's Sing Along Blog').
A 'Castle' musical is ripe for some romantic ballads, a passionate solo bemoaning the villain, and a dramatic quartet ahead of the climax. There would also be a male-versus-female showdown playing with sexual politics and gender roles of the show, maybe like something from 'Guys and Dolls,' or 'West Side Story.'
'Sleepy Hollow'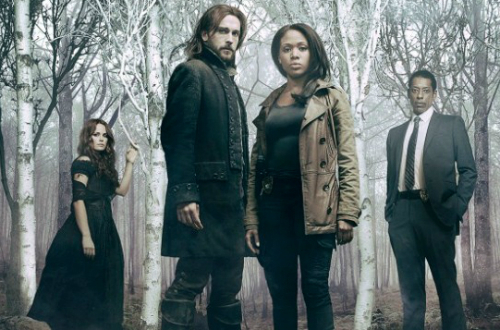 Mysticism, witchcraft, cults, and endless fog make for moody tunes. 'Sleepy Hollow' seems ready for some impassioned, dark music, and you don't have to travel far to connect the dots with 'Sweeney Todd,' for example. Tim Burton and Johnny Depp, the talents behind that musical, did their own version of 'Sleepy Hollow,' so precedent or more or less set.
Plus, you're on FOX and it's only your first year, so why not get some kids from 'Glee' to guest star and help you stand out?
'Sherlock'
There is really nothing that Benedict Cumberbatch can do wrong, and it seems that he can in fact do just about anything he wants. He was the slithery Julian Assange in 'The Fifth Estate,' an awkward cousin in 'August: Osage Country,' a slave owner in '12 Years a Slave,' and of course he was a famed villain in the latest 'Star Trek.' Oh, and he is also the voice of Smaug in the new Hobbit film – and that's all this year.
So, for a 2014 encore, why not return as the noted detective and add one more layer to the mysterious, ambiguous sleuth? He and Martin Freeman would make a perfect pair. Throw a smarmy policeman in along the way, and you already have 'Singin' in the Rain,' 'Me and My Shadow,' and 'Gee, Officer Krupke.' Plus, I can see Watson getting exasperated and Sherlock responding with a rendition of 'Sue Me.'
So, what do you think? What shows need some musical improvement and spontaneity?