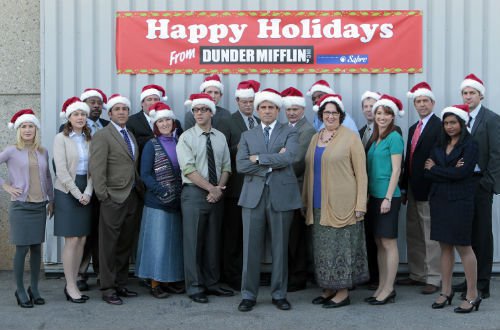 You can't embrace the holiday season without an office Christmas party! If your place of business doesn't hold the annual event, or if you don't have an office, then what better way to celebrate the joyous occasion than with your favorite characters from NBC's 'The Office'? In my opinion, Dunder Mifflin threw some amazing and hilarious, albeit disastrous, Christmas parties. Who didn't love watching Michael Scott throwing tantrums, Meredith getting drunk (and lighting her hair on fire), Jim and Pam sharing sweet moments and Dwight dressing up as an elf and Belsnickel? So, let's have our very own 'Office' Christmas party by reliving some of the most joyful and not so merry moments at everybody's favorite Scranton paper company.
1. "Christmas Party"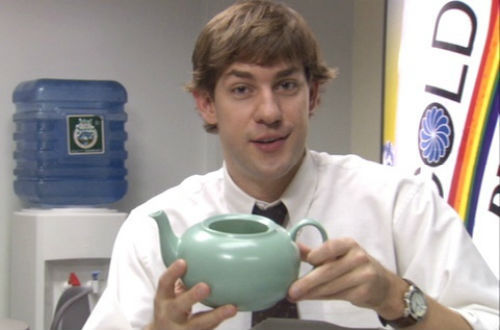 Joyful Moment: It's not the holidays without a sweet Jim and Pam moment. Remember that time Jim got Pam for Secret Santa and he filled that teapot with her favorite memories and special moments they shared together? If that doesn't say joy, I don't know what does.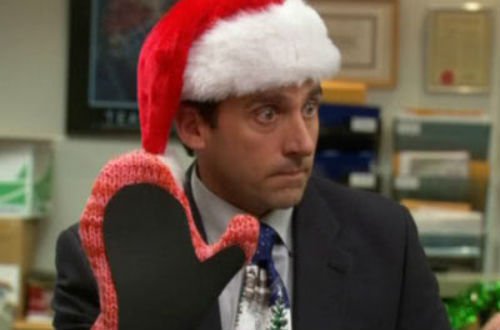 Not So Merry Moment: After Michael receives a homemade oven mitt from Phyllis, he throws a tantrum and turns Secret Santa into Yankee Swap! The entire gift exchange is one major disaster full of jealousy, anger, and yelling (on Michael's end). Well, you know what they say: it's not the holidays without at least one argument.
2. "A Benihana Christmas"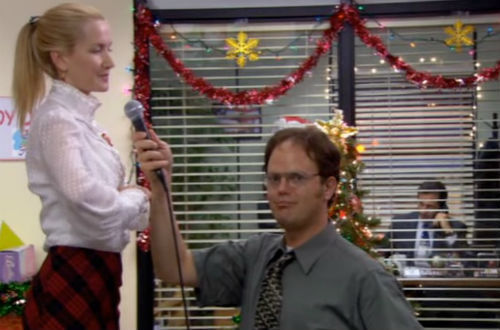 Joyful Moment: As Buddy taught us in 'Elf,' "the best way to spread Christmas cheer is singing loud for all to hear." So, it's definitely a cheerful office party when Angela steps up to the karaoke machine and belts out the "Little Drummer Boy" aka her favorite song ever!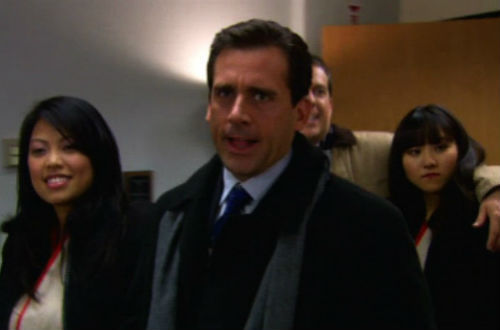 Not So Merry Moment: Once again we have an infamous Michael moment. You can't have an office holiday party without at least one hook up, right? That's exactly what Michael tries to do when he brings a Benihana waitress to the office. BUT, he can't keep "his girl" straight, because "all waitresses look alike." So, in true Michael fashion, he ends up marking his girl with a marker, so he can tell her apart from the one other waitress at the party. Talk about a true party foul.
3. "Moroccan Christmas"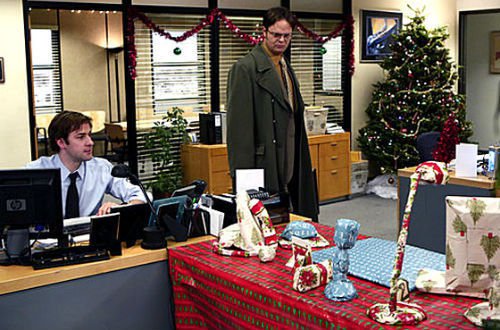 Joyful Moment: There is no true office holiday party without some jokes, pranks and laughs. Well, that never fails for Jim and Dwight, especially when Jim wrapped Dwight's desk and every item on it. Not only did that take talent and skill, but it also caused some major laughs (and deserves a major round of applause).

Not So Merry Moment: There's always going to be at least one employee who drinks too much and causes ruckus. At Dunder Mifflin, that was Meredith. Like when she got completely and utterly wasted and her hair caught on fire. The best part? She didn't even notice. As we all know, Michael's intervention didn't help.
4. "Secret Santa"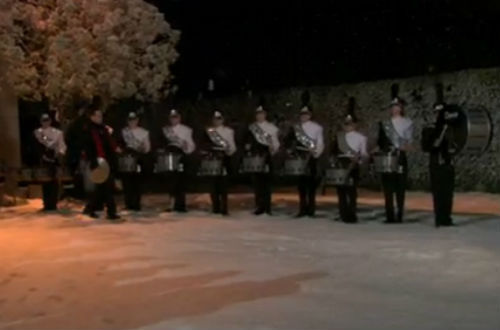 Joyful Moment: Uh oh, 'The Office' is taking another stab at Secret Santa. For Andy, his "12 Days of Christmas" gifts didn't go quite as planned for Erin. However, his 12 drummers drumming definitely made up for Erin's cat eating a turtle dove and the huge gash on her face. Andy drumming with drummers? Now that's a Christmas miracle!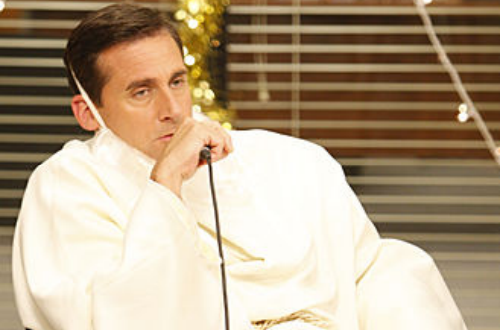 Not So Merry Moment: Surprise! Michael throws a tantrum at another festive party! When Phyllis becomes the office's Santa Claus, Michael lashes out by dressing up as Jesus, spouting off harsh comments about his co-workers (like telling Stanley he's going to hell for having an affair) and spoiling Andy as Erin's Secret Santa. Merry Freaking Christmas, everyone!
5. "Classy Christmas"

Joyful Moment: A snowball fight during the holidays and at your office party? Yes, please! Jim and Dwight's fun activity turned quite cold and bloody, but who doesn't like watching Jim and Dwight go after one another with snow balls? Or, how about when Dwight hid in the snowman to attack Jim? Or, when Dwight built about 20 snowmen in the parking lot? Memories.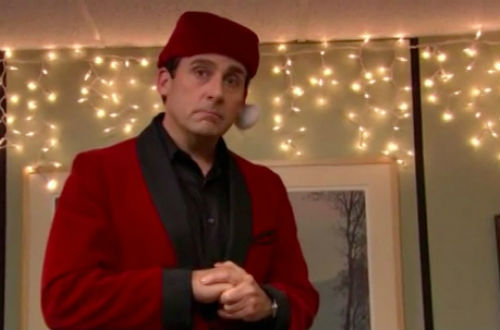 Not So Merry Moment: This is one time I support Michael's holiday tantrum. After learning about Holly's long-distance relationship, Michael lashes out by throwing her 'Toy Story' Woody doll (given to Holly by her boyfriend) in the trash. Come on, Holly! You wouldn't stay with Michael because the relationship would be long distance, but you can stay with A.J.? I don't think so, girlfriend.
6. "Christmas Wishes"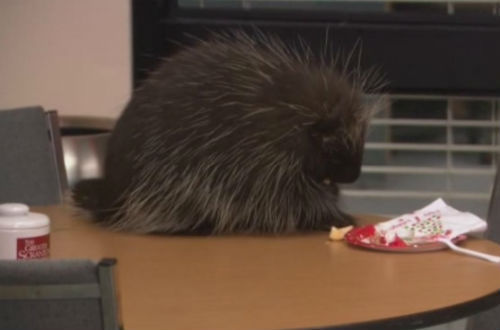 Joyful Moment: Once again, Jim and Dwight fulfill a joyful 'Office' moment. During Andy's first official Christmas party as regional manager, Jim and Dwight can't help but prank each other. In an attempt to frame one another for vicious pranks, Dwight ends up placing a porcupine in his desk and blames Jim, while Jim defaces a photo of his own daughter. They take pranking to an entirely new level, even for them.

Not So Merry Moment: Nothing says the holidays like a drunken Erin telling Andy she wants Jessica (Andy's girlfriend) to die. As she said, "I wish Jessica was dead." Someone take the alcohol away from her, stat!
7. "Dwight Christmas"

Joyful Moment: During the Season 9 holiday episode, it was Dwight's turn to host the best Christmas party. How did he do it? By celebrating a traditional Schrute German Christmas and dressing up as Belsnickel, of course! It ain't Santa, but it works.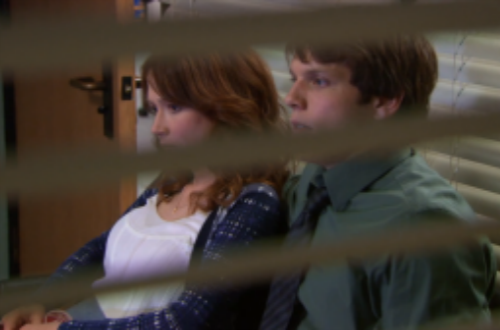 Not So Merry Moment: Like the traditional hookup, there has to be at least one heartbreaking relationship moment at the office Christmas party. Unfortunately for Erin, it was her turn when Andy informed her he was going to be away for a few more weeks on his boat. At least she got to watch 'Die Hard' (one of the best Christmas movies ever) with Pete!
What are some of your favorite joyful and not so merry moments from 'The Office'?