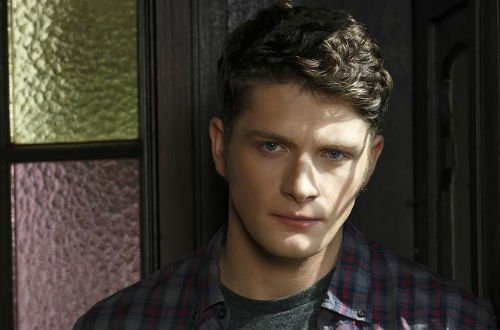 Brett Dier. Does that name sound familiar? It should, since he stars in the new ABC Family supernatural thriller 'Ravenswood,' which is constantly scaring (some would even say scarring) fans and causing them to question what's real and what isn't in the creepy town of Ravenswood.
Well, today during a conference call, TVRage had the chance to speak with Dier about his role as Luke Matheson, the skeptic tough guy who's willing to do anything to protect his twin sister, Olivia (Merritt Patterson), and the love of his life, Remy (Britne Oldford).
Speaking of Remy, the last time we saw the lovebirds they were on the outs, and mostly thanks to Luke kissing Tess (Haley Lu Richardson).
For Remy and Luke shippers, Dier told reporters during the second half of the season "They're [Remy and Luke] definitely figuring things out and they're a lot better than how they were. There's still, obviously, a little bit of issues, but, no, they're working things out."
That's some good news, and regarding Luke's other bond, with his twin sister, Dier also touched on their relationship. Olivia and Luke's bond will develop over upcoming episodes and as Dier put it, "Well it definitely gets a lot shakier in the next five episodes. Lots of drama, especially between Olivia and Luke and the mom and Collins and all that kind of stuff, so Luke and Olivia work together on that. They've had some kerfuffles, but you can definitely see their bond get a lot stronger through that, especially this one scene, which I can't say, but it's really intense.
"Me and Merritt were like…it was a scene where we had to get super depressed, so we were depressed for like six hours on set to get into the mindset of the scene. And that scene you definitely see Luke and Olivia bond. It's a really cool scene [in Episode 10, the season finale]."
Luke's relationships aren't the only aspect fans will see grow and develop, but they'll also get to see Luke become comfortable (if that's even possible) with the curse that is set on killing five Ravenswood teens.
Dier told TVRage, "Yeah, actually he does eventually get comfortable with, well not really comfortable, but he just accepts it now. So you'll see a lot of that in the upcoming season too or the upcoming part of the season and he definitely does."
If all of that isn't exciting enough, Dier also touched on the relationship between Luke's mom (Laura Allen) and Mr. Collins (Steven Cabral). As fans have seen, there's a clear connection between the two, whether romantic or not. So, can we expect more of that this winter?
Well, Dier told TVRage, "Oh yeahhh. Definitely. There's definitely some of that and it definitely makes Luke extremely angry, so you'll see some of that too."
If that doesn't want to make you tune in to 'Ravenswood,' I don't know what will.
Be sure come back to TVRage for even more scoop on the new 'Ravenswood' episode, titled "Revival,' in the coming weeks. 'Ravenswood' returns Tuesday, Jan. 7 at 9/8c, right after the premiere of 'Pretty Little Liars' airing at 8/7c on ABC Family.
*With some reporting by Kelly Schremph