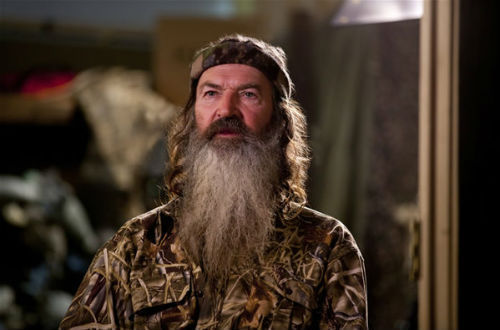 After making anti-gay remarks in a recent interview with GQ, A&E has decided to suspend 'Duck Dynasty's Phil Robertson from the hit reality show.
In the January 2014 issue of the magazine, Robertson talks about his views on homosexualtiy, his strong Christian faith and sinning. As he tells GQ, "Start with homosexual behavior and just morph out from there. Bestiality, sleeping around with this woman and that woman and that woman and those men."
He went on to paraphrase Corinthians, "Don't be deceived. Neither the adulterers, the idolaters, the male prostitutes, the homosexual offenders, the greedy, the drunkards, the slanderers, the swindlers—they won't inherit the kingdom of God. Don't deceive yourself. It's not right."
Robertson also adds, "It seems like, to me, a vagina—as a man—would be more desirable than a man's anus. That's just me. I'm just thinking: There's more there! She's got more to offer. I mean, come on, dudes! You know what I'm saying? But hey, sin: It's not logical, my man. It's just not logical."
Well, Robertson's comments didn't go over well with A&E, as the network has placed him on suspension. A&E also released a group statement saying, "We are extremely disappointed to have read Phil Robertson's comments in GQ, which are based on his own personal beliefs and are not reflected in the series 'Duck Dynasty.' His personal views in no way reflect those of A+E Networks, who have always been strong supporters and champions of the LGBT community. The network has placed Phil under hiatus from filming indefinitely."
'Duck Dynasty's fifth season (most of it shot before Robertson's suspension) is set to air on Wednesday, Jan. 15.
Did A&E make the right call?