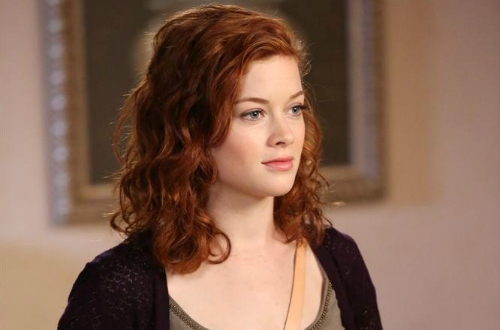 Described in years past as a "breakout star" and "one to watch," the exceptionally talented actress Jane Levy finds herself today starring in a network sitcom, working on films, and always looking for more challenging projects. Having dabbled in sport and dance in high school, and spent her time in college studying liberal arts and pursuing acting on the stage and screen, it's evident and almost assured that Levy has a bright future and much to offer.
Her modest credits already show an impressive array: she earned an arc on Showtime's 'Shameless' just weeks after moving to Los Angeles a few years ago, found roles in the Lena Dunham-written 'Nobody Walks' as well as the teen romp 'Fun Size' in 2012. Last year, she nabbed her first honors as a scream queen, netting the coveted role of Mia in the remake of 'Evil Dead.'
This Wednesday, however, she makes her return to the small screen in the Season 3 premiere of ABC's sitcom 'Suburgatory.' Levy plays Tessa, a girl taken away from the big city from her protective father and forced to live out her teenage years in the artificial and drama-filled world of the suburban living (the fictional Chatswin). This season she continues to deal with the estrangement of her mother, a rocky relationship with her father, and the fallout that comes with an ex-boyfriend.
Ahead of the premiere, Levy chatted on the phone from warm and sunny Los Angeles about how similar her upbringing was, what's on tap for the forthcoming season, and what's next for the 24-year-old.
TVRage: You grew up in California, is that right? And then moved back from New York City to L.A.?
Jane Levy: I was in New York and then when I moved here and got off the plane, I actually felt like I was in the tropics (laughs).
Actually, I grew up in Northern California in the Bay Area, Marin County. It's pretty different than Chatswin. Marin County is more about the most expensive, organic stuff you can buy, the perfect redwood outdoors. Nothing plastic, it's the complete opposite. It's about recycling, and having a hot tub, living the good life, but it's not like Chatswin where everyone drives SUVs. Everyone has a Prius where I'm from.
So it's different in a way, but at the same time, when I go to Marin, everyone is so entitled. Everyone cuts me off in their car, and they screw you in the health food store.
But I love the suburbs. I hang out for the day and I'm always so exhausted. I live in Los Angeles, and it's pretty much a big suburb, you know?
TVRage: I understand it took you a while to get settled into Los Angeles when you first moved. Do you enjoy it there now, or do you pine for the suburbs?
Levy: Well, I'm not here all the time. I've lived here for four years almost, maybe three and a half, and when I'm not shooting 'Suburgatory,' I don't really stay here. I guess I've settled in, though. I know it well, I have my favorite restaurant, I have it pretty together (laughs). But I feel like I sort of live all over the place.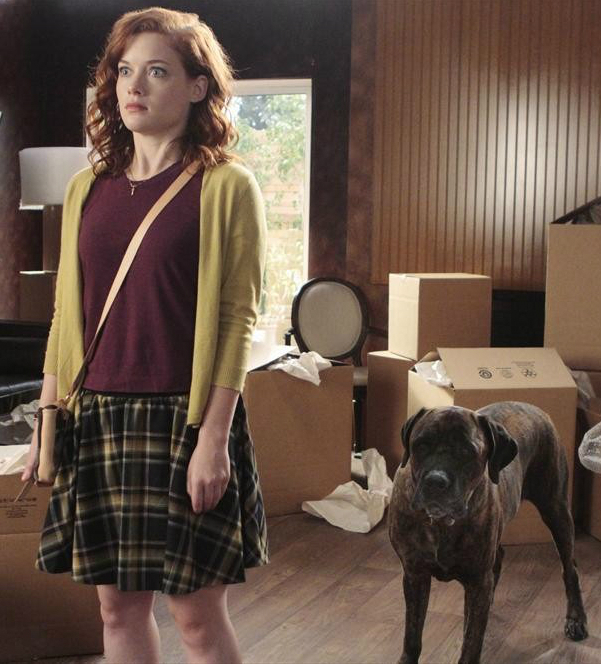 TVRage: Is Tessa then, this girl thrust into suburbia, a character that was always familiar, or is she a departure for you?
Levy: She is different than me, yes, but she is an easy character to step into. It's quite seamless. I didn't have to do a lot of character work, I really just follow the writing -- we have great writing.
TVRage: So looking ahead, what can you tell us about what to expect in Season 3?
Levy: Well, a lot happens in the half season – its 13 episodes. Tessa moves back into with her dad quickly in the first episode, she spends a lot of time this season thinking about her (ex-) boyfriend; they broke up last year.
I think she feels a little uncertain about a lot of things. You break up with someone, you are alone again, and she's more and more into that idea. She feels alone because everyone else has boyfriends. She tries a knitting circle, saying basically, "If I'm going to be an old lady, I might as well be an old lady, and hang out with 80-years-old and knit."
TVRage: Is there anything that compares to the epic fight scene we saw towards the end of last year between Tessa and Dalia?
Levy: Nothing compares to that actually (laughs).
TVRage: What would you say is your favorite moment from Season 3?
Levy: Malik and Lisa, their relationship is really fun to watch. They become much closer, and their love is a big storyline.
I also know Dallas (Cheryl Hines) visits her family, and she is something that has always been mysterious on the show, the fact that she has a southern accent and that's never actually explained. So there is an episode where Dallas' mother passes away, and she goes to the funeral and forces Dalia to go with her. We're introduced to her outrageous southern family, and that was pretty funny. I always love working with Cheryl, and the women we had playing her sisters were so good.
TVRage: You've been tapped as a "breakout" actress by many, and you have this lead role and you've been doing films. What's next for you?
Levy: I'm making a musical next month in Toronto by a filmmaker named Jeffery St. Jules. He's a Canadian director, and he is known for making short films, but this is like a work- fairy tale-nightmare musical where I play a version of Ann Margret (titled, 'Bang Bang Baby').
And then I'm trying to find out other projects. I did movies last year that have yet to be seen. One of them is playing in the Tribeca Film Festival this year.
I'm trying to do all sorts of stuff, and I'm trying to be specific in what I do.
TVRage: Specific in what way? Do you mean diverse?
Levy: Diverse, yes. I mean, I want to do what I would enjoy. In order to be good at something, you have to be very interested in something, I think. So I'm trying to find the next job where I'm really interested in it, and they are really interested in me. So to find that combination is not easy, but that's what you want.
--
Season 3 of 'Suburgatory' airs on ABC Wednesday, Jan. 15 at 8:30/7:30c. You can check out the promo below.