Hello all! Chances are if you're reading this it means you, much like myself, are addicted to TV. You just can't ever get enough of that small screen action! Well, I'm here to tell you that I feel your pain and would like to help you in your noble quest for TV knowledge, which is why I've taken it upon myself to create this fun, weekly feature. Every week, I will dig up new and interesting facts about a show and share them with you right here. So sit back, relax, and let the trivia madness commence!
This week, I thought it'd be appropriate to bust out my powers of deduction and delve into the wonderful world of 'Sherlock.' The series' third installment is less than a week away from premiering in the states, which means the anticipation couldn't be greater. And what better way to pass the time than by learning more about our favorite British sleuth and his partner-in-crime(solving), Dr. John Watson. From studies in pink to a certain (and rather epic) fall, this show knows how to captivate an audience in the best way possible. And while you may think you already know quite a bit about this beloved detective drama, there are still plenty of things you have yet to uncover. Such as…
Did You Know:
1. 'Sherlock' isn't the only thing Benedict Cumberbatch and Martin Freeman have starred in together.
During the hiatus between the show's first and second seasons, both actors were cast in Peter Jackson's 'The Hobbit' franchise. Sure, Freeman's easy enough to spot as the young version of Bilbo Baggins, but were you aware of Cumberbatch's numerous roles? The actor not only served as the voice for Smaug the Dragon AND The Necromancer, but he also provided the motion-capture as well. It just goes to show that no matter the circumstances, you can't keep a good bromance apart.
2. Benedict Cumberbatch was the only actor specifically asked to audition for the role of Sherlock.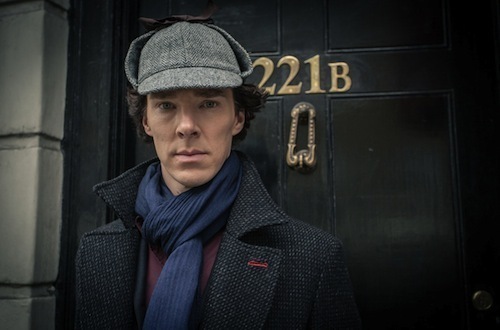 After watching his performance in 'Atonement,' co-creators Steven Moffat and Mark Gatiss immediately thought he looked like a perfect Holmes and asked him to come in to read for the part.
3. Sherlock's brother, Mycroft Holmes, is actually played by Mark Gatiss, the co-creator of the series.
It's like Sherlock always says — Mycroft has power everywhere…even when it comes to making decisions about the show itself! Though I can't say that I blame him for this. I mean, if you helped create a fantastic show like this, wouldn't you want to be in it as well?
4. Matt Smith auditioned for the role of Dr. John Watson before his 'Doctor Who' audition.
That's right, folks. Our beloved Time Lord could've ended up on 'Sherlock' instead of 'Doctor Who' (though, he still would've possessed the "doctor" title, oddly enough). "Well I thought my audition for Watson was very good. But clearly not good enough!" Smith told the Radio Times in September 2012. "Basically they looked at it and went, 'He's not Watson. It'd be like having two Sherlocks in the room.' But Martin Freeman was born to play that part. And rightly so, thank the stars. "I wasn't destined for Watson -- but I met Steven Moffat, who said: 'He'd be quite a good Doctor Who…'" Funny how things work out, wouldn't ya say?
5. The two present-day Sherlocks have starred alongside each other.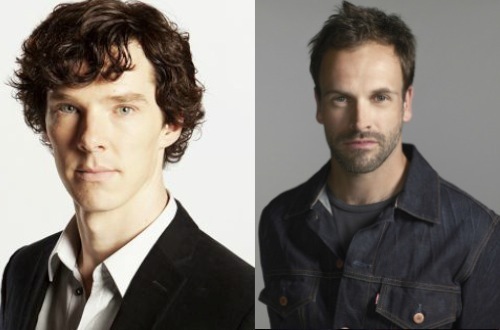 In the summer of 2011, Danny Boyle created a National Theatre production of 'Frankenstein' in which Benedict Cumberbatch ('Sherlock') and Jonny Lee Miller ('Elementary') played both the creator and the monster, alternating the roles on a nightly basis. Both actors then went on to play different interpretations of Sherlock Holmes, both set in the present day, though on opposite sides of the Atlantic.
6. The character Sally Donovan was originally played by actress Zawe Ashton in the pilot.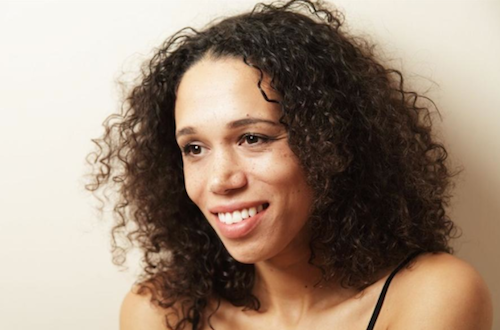 However, Vinette Robinson (above) was eventually recast in the role after Mark Gatiss worked with her in the 2009 play 'Darker Shores.' (Though they never publicly acted together given that Gatiss had to drop out of the play after rehearsals due to the death of his sister.)
7. During the episode 'A Scandal in Belgravia,' the part where Sherlock takes Irene Adler's pulse was not in the original script.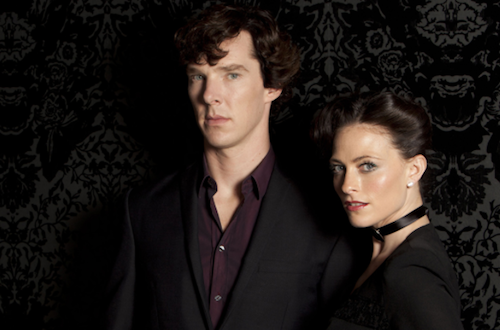 That's right, that swoon-worthy moment was all a result of improvisation courtesy of Benedict Cumberbatch. On behalf of women everywhere, let me just say: thank you!
8. In preparation for 'Sherlock,' Benedict Cumberbatch's workouts consist of swimming and Bikram yoga.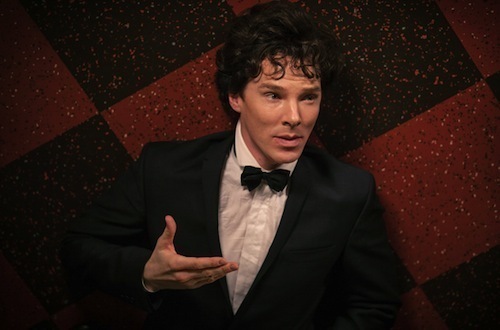 This is to help give him a lean, angular look. The actor's also said he tries to refrain from smoking or drinking during the shoots and takes a daily dose of honey. Well, whatever he's doing, it certainly seems to be working.
9. The show has a rather strict "No Hollywood A-list Stars Allowed" policy.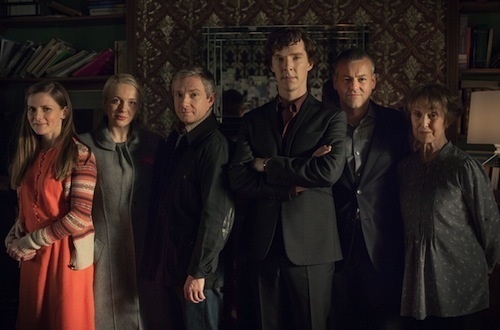 According to Sue Vertue (Steven Moffat's wife), several well-known actors have made inquiries about guest starring on the series. However, Mark Gatiss has said that they prefer to give lesser-known actors the opportunity, citing Cumberbatch and Andrew Scott (Jim Moriarty) as stars who were known in the industry, but didn't break out until 'Sherlock' premiered.
[WARNING: the last two facts reveal tiny tidbits about the series' third season, so if you don't want to know anything about it in advance, stop reading now.]
10. Sherlock's parents are actually Benedict Cumberbatch's real-life parents.
Those who have already been lucky enough to see Season 3 know that fans will get a glimpse at our master sleuth's mom and dad. What they may not know, though, is that they also just happen to be the actor's actual parents, Wanda Ventham and Timothy Carlton. These are the people responsible for the creation of Benedict Cumberbatch. Let's all take a moment to give them a nice, big round of applause.
11. Mary Morstan and John Watson are together in real life.
Though the character of Mary is only just now getting introduced in the third season as Watson's girlfriend and eventual wife, the actress Amanda Abbington has actually been Martin Freeman's real-life romantic partner for years. So if you're ever wondering why their chemistry seems so spot-on, I'd say that's a pretty big clue.
I hope you enjoyed this week's installment of Facts From a TV Junkie. Check back next week for another fix!
'Gilmore Girls' < Previous | Next > Stay tuned!