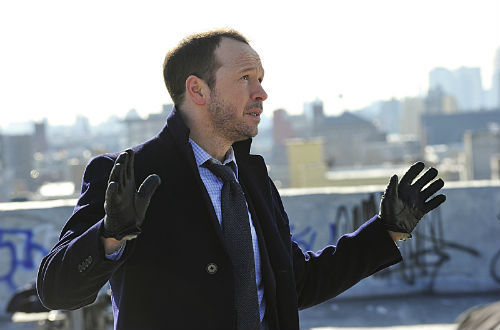 Tomorrow night, 'Blue Bloods' is back with an emotional episode involving Danny (Donnie Wahlberg) tracking down an Army veteran suffering from PTSD. The case takes a toll on Danny, not only because he's trying to prevent the vet from harming himself and others in a life-threatening manner, but because it brings Danny back to his war days.
The episode, titled "Unfinished Business," also revolves around Karen Allen's ('Raiders of the Lost Ark') character, Betty Lowe, seeking justice for the murder of her daughter. Doug E. Doug ('Justified,' 'Cosby,' 'Cool Runnings') also guest stars as Lamar Roberts, a witness to Betty's daughter's murder.
Combat is a huge focus of the episode, and ties the episode together. As usual, the Reagan family unites to help each other professionally, personally and emotionally.
Without giving too much away, here are a few teasers you can expect from tomorrow night's episode. If you're not one for any type of spoiler, then turn around and run in the other direction.
-Danny reconnects with someone from his past, who not only helps in the investigation, but who also lends a helping hand to Danny and his war demons.
-In addition to Danny's investigation, his eldest son conducts research on the Reagan family history. It seems each Reagan patriarch is connected in more ways than one.
-During a press conference, Frank walks away with more on his plate than just irritating reporters.
-A touching moment happens during Linda and Danny's eldest son's, Jack, family history presentation.
-Despite Danny's heavy case, the Reagan men prepare for a manly camping trip -- Jack's first, since he is now 13 years old.
-Frank uses the word "chick" to throw shade at a detective. It's a memorable scene and highlights Frank's repeated badassness.
'Blue Bloods' airs Fridays at 10/9c on CBS.