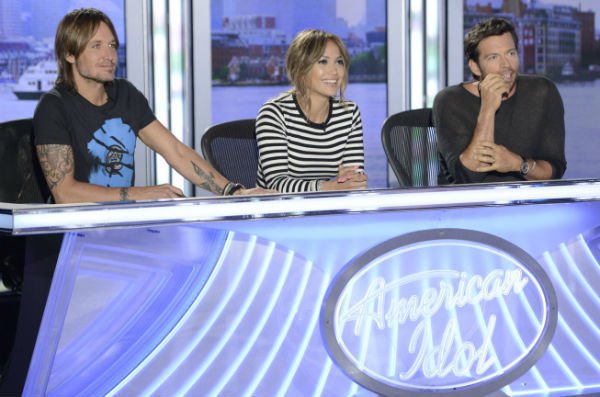 FOX won the night in all measures.
Despite FOX's victory, 'American Idol's season premiere only managed to draw a 4.7. That number is way, way down from last year's 6.0. While a 4.7 easily wins most nights, and is a great number by any normal standard, it's hardly remarkable for what was once the most dominant show on all of TV.
Over on the Peacock, 'Revolution' dropped to a new all-time low of 1.3, cementing itself as one of the biggest second season disappointments in many years. 'Law & Order: SVU' shed the entire half point gain it made last week, posting a 1.4. 'SVU' is apparently a yo-yo now. 'Chicago P.D.' dive bombed in week two, falling half a point to a 1.5.
The overall downward trend continued with ABC. 'The Middle' started things off by dropping four tenths to a season low of 1.8. 'Suburgatory's season premiere drew a rather underwhelming 1.6, even with last year's finale, but down sharply from the 2.8 earned by last season's opener. 'Modern Family' fell three tenths to a 3.2, one of its lowest numbers in months. 'Super Fun Night' dipped slightly, garnering a 1.5. 'Nashville' set a new series low of 1.3.
On CBS, 'Criminal Minds' matched its last new episode's 2.4. 'CSI' followed that up by rising two tenths to a 2.0. As for the CW, 'Arrow' returned down, dipping two tenths to a 0.9. 'The Tomorrow People' matched its last original's 0.5, and is looking more and more likely to get the ax.
Key: Broadcast Network - Show Name - 18-49 Rating - 18-49 Share - Total Viewers In Millions
8PM
FOX - American Idol (Season Premiere) - 4.7 - 13 - 15.19
ABC - The Middle (N) - 1.8 - 6 - 7.51
NBC - Revolution (N) - 1.3 - 4 - 4.78
CBS - Two and a Half Men (R) - 1.2 - 4 - 5.36
CW - Arrow (N) - 0.9 - 3 - 2.52
8:30PM
ABC - Suburgatory (Season Premiere) - 1.6 - 5 - 5.30
CBS - The Millers (R) - 1.1 - 3 - 4.78
9PM
ABC - Modern Family (N) - 3.2 - 9 - 9.14
CBS - Criminal Minds (N) - 2.4 - 7 - 10.35
NBC - Law & Order: SVU (N) - 1.4 - 4 - 5.44
CW - The Tomorrow People (N) - 0.5 - 2 - 1.46
9:30PM
ABC - Super Fun Night (N) - 1.5 - 4 - 4.44
10PM
CBS - CSI (N) - 2.0 - 6 - 10.30
NBC - Chicago P.D. (N) - 1.5 - 4 - 5.50
ABC - Nashville (N) - 1.3 - 4 - 5.10
Source: Nielsen Media Research