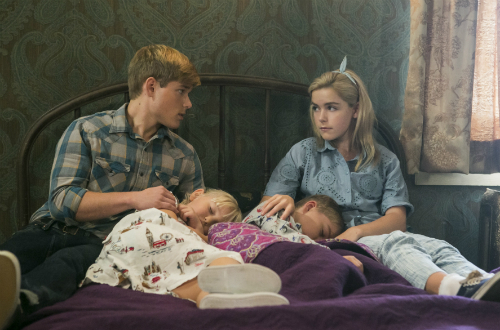 Let us return to a time when apple pie was 75 cents, fences were pristine, and so too were the children, or at least they were on the surface. You'd never utter the word "sex," instead opting for euphemisms and using words like "immodest," or in the case of a wary grandmother, "wicked" and "evil."
It's the world of the novel 'Flowers in the Attic' as recreated for the small screen by Lifetime, where lust and greed exist, but not in plain sight, as they lie waiting to be unleashed. Based on the controversial and popular 1979 book by V.C. Andrews and faithfully followed, Lifetime's 'Flowers' is slightly more tepid, having greater interest in exploring the realized evil of adults than the misdoings of misguided, trapped youth.
Perhaps too, because it's 2014, it could also be called a cautionary tale about spending and living beyond your means. Corrine Dollanganger is after all, a liar, and not just because she pretended to cook a dessert when she actually bought it. Seeking the quick fix, she makes purchases with money she doesn't have, and misleads her children when she says everything will be all right.
Of course it's not all okay. Regardless of how familiar or not you are with the story, Heather Graham brings to Corrine a selfish glare and evil smile just beneath a glowing façade that always nods in the direction of her dubious past and opportunistic future.
When the Dollanganger patriarch suddenly dies, Corinne and her four doting children -- Christopher, Cathy, Cory, and Carrie (they're the Kardashians of the 1950s) – are forced to abandon their home and belongings after buying everything on credit with money they no longer will recieve. So they head to Virginia to reside with Corinne's wealthy yet infirmed father and his cold, sneering wife in their expansive mansion.
Corinne is estranged from her parents, and in order to secure an inheritance and re-enter the will, she must hide her children from papa's eyes and ears. Thus, until the strict supervision of Grandmother Olivia (Ellen Burstyn), the kids are kept away in a small room in the estate, with access to an attic and a singular window to the outside world.
An ever-growing dark cloud is cast over the head of the Dollanganger children, who's once 'Leave It to Beaver' existence has given way to something like a PG version of 'Oldboy.'
Well, maybe it's not that extreme, but being trapped in a room certainly changes forever impressionable and growing youth. Kiernan Shipka and Mason Dye are the older siblings, Cathy and Christopher, especially worthy in their roles as confused, conflicted young adults who grow closer and closer as time passes.
This 2014 offering (a film was created in 1987, and Lifetime has already okayed a sequel) is delightfully nostalgic, but ultimately forgettable. Embracing clichéd stereotypes – the materialistic woman who longs for a man to take care of her, and the wretchedly matronly grandmother – Lifetime's 'Flowers' doesn't dare shock or even tantalize while staying plenty campy.
It chooses to focus on two generations of evil, but not the third. Burstyn's Olivia is immediately familiar as a vile wench, forcing Corinne and children to obey the strictest, harshest of rules. While her character reveals itself, Corinne's does too in predictable though interesting fashion as her layers of evil are dissected.
There is a blood link between the two, and so perhaps evil can be passed from mother to offspring. That, of course, is what Olivia believes; she sees her daughter as a demon and knows that darkness exists too within Christopher and Cathy.
Their plight, however, one of controversy in the book and in this form something far less startling (partly due to the evolution of sex and violence in entertainment), is seen as one of necessity, their hand forced by a desire to survive.
So, there is something a bit of compelling, but 'Flowers' is almost completely a devilish lark with fleeting moments of blunt meaning. When Christopher and Cathy sneak out for the first time, they come across a friendly doe; it's innocent, just like them. It's also only momentarily fascinating, but docile and not long for this world – just like the movie.
'Flowers in the Attic' premieres on Lifetime on Saturday, Jan. 18 at 8/7c. You can veiw the trailer below.