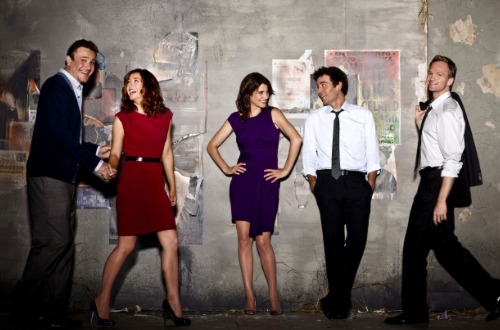 Saying goodbye is never easy, especially when it comes to a beloved sitcom. Which is exactly what makes this year's 'How I Met Your Mother' all the more legen — WAIT FOR IT — dary as it wraps up its ninth and final season this May. But fear not fellow bros and hos (you know we mean it lovingly), for TVRage is here to help satiate some of that nostalgia by offering a brand new 'HIMYM'-themed giveaway in honor of our favorite MacLaren Pub regulars.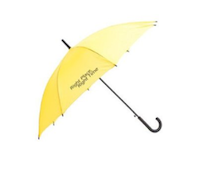 Ted always says that he believes small decisions can change a person's life, so perhaps the use of a familiar looking yellow umbrella can also help lead you to your special someone as well (just hopefully a lot faster than it did for Ted). Nine seasons, people! Nine seasons!
Appropriately containing the logo, "Right Place, Right Time," this unique umbrella can do a lot more than just keep out the rain. In fact, it could be raining men (or women) in no time with this by your side.
A torrential downpour has never seemed so romantic.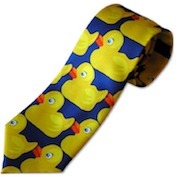 Marshall's ducky tie may have seemed unfashionable to Barney at first, but after having to wear it for an entire year thanks to a lost bet, this has now become a rather iconic look.
Just try wearing one of these bad boys to the bars and you'll be picking up chicks in no time. After all, when it comes to stuff like this, there's no better character to emulate than Mr. Barney Stinson. Now go forth and bestow the highest of fives to all who wear this tie.
So, how do you enter? Follow these rules, and you're good to go!
1. Like TVRage.com on Facebook.
2. Share the post about the giveaway on your own Facebook timeline.
3. Most importantly, SEND US A PRIVATE MESSAGE to our TVRage.com Facebook page stating that you'd like to be entered into the contest. (This ensures that we have a way to contact you if you're the winner!)
You must complete all of the above by WEDNESDAY, JAN. 29, 2014 at 5:00 p.m. EST, the contest end date. Then, on that same day by 7:00 p.m. EST we will announce the winner on our Facebook page and via private message. FYI, the giveaway is open to residents of Ireland, the United Kingdom, Australia, New Zealand, Belgium, Germany, the Netherlands, Canada and the United States.
So, hurry up and enter before it's too late!
Please read our terms and conditions, posted below, for the complete set of rules.
----------------------------------------------------------------------
TERMS AND CONDITIONS:
You may contact TVRage.com at any time via our Facebook page or you can contact the News Editor (Allyson Koerner) directly at [email protected].
Closing for the 'HIMYM' giveaway is 5:00 p.m. EST on Wednesday, Jan. 29, 2014.
Entries will be made by 'Liking' TVRage on Facebook and Sharing the giveaway post on the entrant's timeline, along with submitting a private message to the TVRage Facebook page requesting entry. Only one entry allowed per Facebook account/reader/person. Entries will be disqualified if the entrant is not found to have completed the aforementioned requirements.
There is no purchase necessary to enter the contest. Winning entries will be announced by 7:00 p.m. EST on Wednesday, Jan. 29, 2014.
All prizes are subject to availability; TVRage.com reserves the right to replace the prize with one of equal value should availability prevent the dispensing of the initial prize.
Prize draws and contests are only open to residents of Canada, USA, UK, Ireland, Australia or New Zealand who are 18 years of age or older. Winner(s) will be selected at random after the closing date by an independent judge from all of the eligible entries received. The judge's decision is final and no correspondence will be entered into.
Winner(s) will be notified via Facebook private message in response to the entry message provided. Following this notification, the winning entrant will be responsible for submitting a phone number and a mailing address or P.O. Box so that the prize can be submitted accordingly.
TVRage.com is not responsible for any technical issues encountered during entry; only entries received on the TVRage.com Facebook account will be considered. If TVRage.com cannot successfully contact the winning entrant within two (2) weeks of the time winners were announced, TVRage.com reserves the right to disqualify the winning entrant and provide the prize to another eligible contestant. Provided the two weeks have elapsed, this decision will be made at the sole discretion of TVRage.com.
Please allow thirty (30) days for the delivery of the prize. TVRage.com is not responsible for any prize being delayed/damaged/lost during post. By entering the contest giveaway you consent to having your name posted on TVRage.com as well as the TVRage.com Facebook page. All mailing addresses will be kept confidential, known only to the necessary TVRage.com employees who will be facilitating the giveaway contest.
Odds of winning are conditional upon the number of eligible entries received. The contest giveaway is not open to any employees of TVRage.com (past or current) nor their family members or spouses.
Good luck!