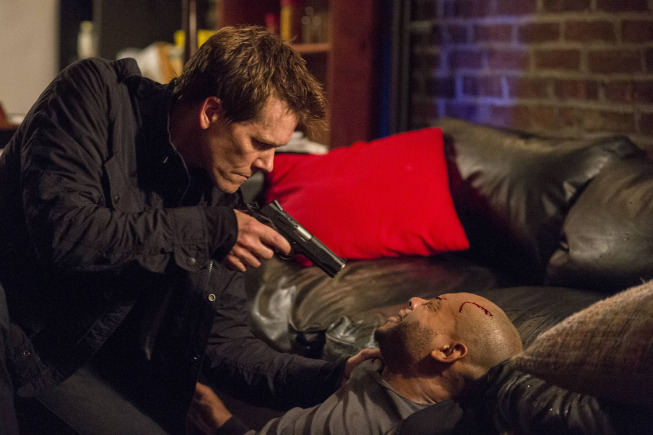 ABC prevailed on Saturday, while FOX got the duke on Sunday.
FOX's broadcast of the NFC Championship game easily dominated the weekend, earning a monster 19.0 demo and drawing in over 55 million total viewers. Programmed in the cushy post-game slot was the season 2 premiere of surprise 2013 hit 'The Following,' which garnered a 4.4 demo and drew a total audience of over 11 million people. This represents a series high in both measures for the Kevin Bacon fronted thriller.
Elsewhere, '60 Minutes' dropped almost 70% to a 1.3 for CBS. To be fair, last week was preceded by an NFL playoff game. 'The Bachelor's ongoing specials continue to tumble, with the latest installment falling to a 0.9. 'Revenge' fell three tenths to a 1.3, tying its previous all-time low. The season (and likely series) finale of 'Betrayal' dipped a tenth to a paltry 0.7. A new 'Dateline' earned a 0.8 for NBC.
Key: Broadcast Network - Show Name - 18-49 Rating - 18-49 Share - Total Viewers In Millions
Saturday
8PM
CBS - Mike & Molly (R) - 0.7 - 2 - 2.70
ABC - Hancock (Movie) - 0.6 - 2 - 2.55
NBC - Chicago P.D. (R) - 0.5 - 2 - 2.59
FOX - Almost Human (R) - 0.4 - 1 - 1.57
8:30PM
CBS - 2 Broke Girls (R) - 0.8 - 3 - 2.84
9PM
CBS - Intelligence (R) - 0.5 - 2 - 2.84
NBC - Chicago P.D. (R) - 0.5 - 2 - 2.82
FOX - The Following (R) - 0.3 - 1 - 1.10
10PM
ABC - 20/20 (R) - 0.9 - 3 - 4.01
NBC - Saturday Night Live (R) - 0.7 - 2 - 2.64
CBS - 48 Hours (N) - 0.5 - 2 - 2.93
_____________________________________________________________________________________
Sunday
7PM
FOX - NFC Championship 2014 - 19.0 - 47 - 55.91
CBS - 60 Minutes (N) - 1.3 - 3 - 7.89
ABC - America's Funniest Home Videos (R) - 0.9 - 2 - 4.39
NBC - Dateline (N) - 0.8 - 2 - 4.37
8PM
ABC - The Bachelor: Love Stories (N) - 0.9 - 2 - 3.94
NBC - Bridesmaids (Movie) - 0.9 - 2 - 3.22
CBS - The Good Wife (R) - 0.7 - 2 - 4.42
9PM
ABC - Revenge (N) - 1.3 - 3 - 5.37
CBS - The Mentalist (R) - 0.7 - 2 - 4.57
10PM
FOX - The Following (Season Premiere) - 4.4 - 12 - 11.18
CBS - Criminal Minds (R) - 1.0 - 3 - 6.19
ABC - Betrayal (Season Finale) - 0.7 - 2 - 3.31
Source: Nielsen Media Research