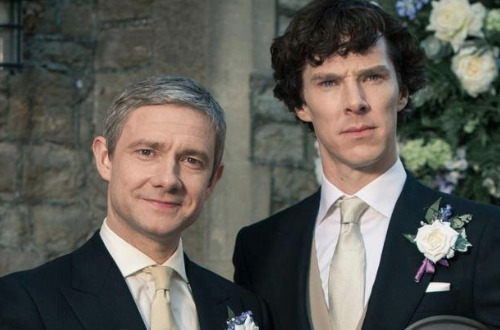 A murderous plot...sentimental speeches...perfectly placed humor — that's exactly what you'll find in the second episode of 'Sherlock's third season, which centers around a very important day, indeed, for our beloved Baker Street boys.
[WARNING: Plot teasers are ahead, so if you don't want to know anything concerning Sunday night's new episode, I suggest you pack up your detective gear and leave while you still can.]
As many of you are probably already aware, "The Sign of Three" centers around the wedding of John Watson and Mary Morstan with Sherlock playing the important role of the Best Man. (Adorable x infinity!) But, as you might expect, there's a lot more going on that just vows, champagne, and dancing (though there's plenty of that as well).
I was lucky enough to catch the episode before its U.S. airdate and am more than happy to share a few of my deductions with you concerning this blessed event. Let's dig in!
-John and Sherlock can be seen wearing tuxedos and top hats. I think we may have found their new crime-solving uniforms.
-An old friend from John's past comes to the wedding and makes Sherlock slightly jealous — simply reaffirming just how precious this bromance really is.
-Sherlock faces his biggest challenge yet — delivering a Best Man speech.
-In fact, the majority of the episode is centered around Sherlock's speech, which quickly turns into a "whodunnit" murdery mystery-type situation when he discovers there's a killer in their midst. Overall, it's just pretty much the greatest Best Man speech ever. You'll laugh. You'll cry. You'll hit rewind.
-Fans will get flashbacks to a variety of former cases Sherlock and John have tackled together. You'll also be privy to their drunken Stag Night before the big day. It's pretty much the best thing ever.
-A very familiar face makes a special cameo appearance. (I can't say more than that without giving it away. It's brief, but definitely worth it.)
-SHERLOCK DANCES! Nuff said.
-By the night's end, Sherlock uncovers a secret about John and Mary, which will have a rather serious impact on their future.
'Sherlock' airs in the U.S. on Sundays at a special start time 9:58/8:58c on PBS.