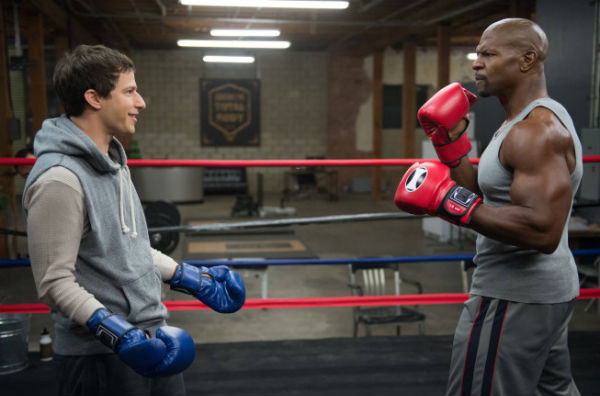 NBC won the 18-49 demo battle, while a night of CBS reruns drew the most total viewers.
'The Biggest Loser' recovered a bit from last week's season low, rising two tenths to a 1.9. 'Chicago Fire' followed that up by matching last week's 1.8. 'Dads' shot up three tenths to a 1.5, but remains all but canceled. Recent Golden Globe winner 'Brooklyn Nine-Nine' rocketed up by half a point, earning a 1.9. The Andy Samberg comedy is looking more and more likely to be renewed.
'New Girl' continued the positive FOX trend, rising three tenths to a 1.9 of its own. 'The Mindy Project' finished things up by jumping up four tenths to a 1.5. On ABC, 'The Goldbergs' dropped three tenths to a 1.5, and is now firmly on the bubble between renewal and cancellation.
'Trophy Wife' fell two tenths to a new series low of 0.9. Despite critical praise, there is no way ABC is going to bring back a freshman comedy that falls below a 1.0. Fans should start preparing themselves for the inevitable. 'Killer Women' stayed flat with last week's 0.7, and is as dead as a doornail. Finally, 'The Originals' and 'Supernatural' both rose to respective 1.1s for The CW.
Key: Broadcast Network - Show Name - 18-49 Rating - 18-49 Share - Total Viewers In Millions
8PM
CBS - NCIS (R) - 1.9 - 5 - 14.20
NBC - The Biggest Loser (N) - 1.9 - 5 - 6.72
FOX - Dads (N) - 1.5 - 4 - 3.88
CW - The Originals (N) - 1.1 - 3 - 2.51
ABC - Marvel's Agents of S.H.I.E.L.D. (R) - 0.9 - 2 - 3.58
8:30PM
FOX - Brooklyn Nine-Nine (N) - 1.9 - 5 - 4.55
9PM
FOX - New Girl (N) - 1.9 - 5 - 3.75
CBS - NCIS: Los Angeles (R) - 1.5 - 4 - 10.52
ABC - The Goldbergs (N) - 1.5 - 4 - 4.71
CW - Supernatural (N) - 1.1 - 3 - 2.65
9:30PM
FOX - The Mindy Project (N) - 1.5 - 4 - 3.02
ABC - Trophy Wife (N) - 0.9 - 2 - 3.37
10PM
NBC - Chicago Fire (N) - 1.8 - 5 - 7.13
CBS - Person of Interest (R) - 1.1 - 3 - 7.35
ABC - Killer Women (N) - 0.7 - 2 - 3.62
Source: Nielsen Media Research