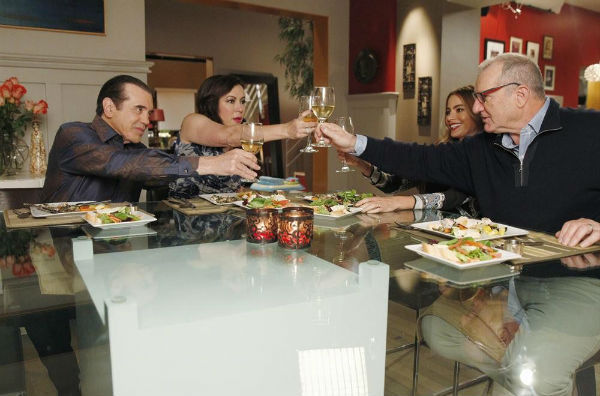 FOX won the night in all measures.
'American Idol' earned a 4.0, down sharply from last Wednesday's 4.7, but up slightly from Thursday's 3.9. If the show drops another seven tenths next Wednesday, FOX might need to start worrying. The 'Idol' era has to end at some point, and Season 13 might finally be the show's unlucky number.
Over on ABC, 'The Middle' shot up half a point to a 2.3, recovering nicely from last week's season low. 'Suburgatory' followed that up by rising two tenths to a 1.8. 'Modern Family' rose two tenths to a 3.4, but remains far away from the 5.0s it was drawing at the beginning of the season. 'Super Fun Night' rose two tenths to a 1.7. 'Nashville' bumped up a smidge, posting a 1.4.
CBS had the reverse of ABC's night, with 'Criminal Minds' and 'CSI' both falling to new all-time lows. 'Minds' posted a 2.2, while 'CSI' dropped four tenths to a paltry 1.6.  Ouch. 'Revolution' increased a bit, earning a 1.5. I think it'll get a third season, but only because NBC is so down in the dumps that it can't afford to cancel anything drawing above a 1.2.
'Law & Order: SVU' continues to yo-yo, regaining the four tenths it lost last week, and scoring a 1.8. 'Chicago P.D.' rose slightly in week three, garnering a 1.6. It's still early, but I consider 'P.D.' a safe bet for a second season renewal. Finally, 'Arrow' and 'The Tomorrow People' matched last week's ratings for The CW, earning a 0.9 and a 0.5 respectively.
Key: Broadcast Network - Show Name - 18-49 Rating - 18-49 Share - Total Viewers In Millions
8PM
FOX - American Idol (N) - 4.0 - 11 - 13.29
ABC - The Middle (N) - 2.3 - 7 - 8.04
NBC - Revolution (N) - 1.5 - 4 - 5.28
CW - Arrow (N) - 0.9 - 2 - 2.49
CBS - The Crazy Ones (R) - 0.8 - 2 - 3.86
8:30PM
ABC - Suburgatory (N) - 1.8 - 5 - 5.91
CBS - Mom (R) - 0.9 - 2 - 3.87
9PM
ABC - Modern Family (N) - 3.4 - 9 - 9.59
CBS - Criminal Minds (N) - 2.2 - 6 - 10.35
NBC - Law & Order: SVU (N) - 1.8 - 5 - 6.68
CW - The Tomorrow People (N) - 0.5 - 1 - 1.38
9:30PM
ABC - Super Fun Night (N) - 1.7 - 4 - 4.83
10PM
CBS - CSI (N) - 1.6 - 4 - 9.47
NBC - Chicago P.D. (N) - 1.6 - 4 - 6.24
ABC - Nashville (N) - 1.4 - 4 - 5.03
Source: Nielsen Media Research