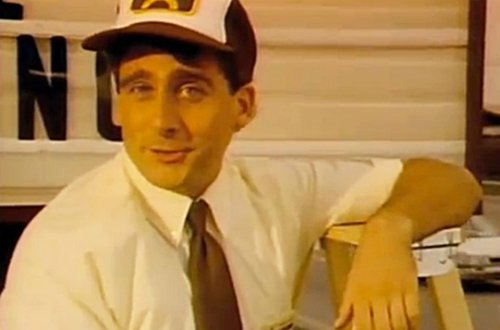 Even as celebrities and stars seem to come out of nowhere and take their welcome places on the screen and in our heart, inhabiting iconic roles and portraying unforgettable characters, it's more often than not they had to earn their dues.
Award-winning darling Jennifer Lawrence had to oblige a generic horror film ('The House at the End of the Street') as well as spend time on 'The Bill Engvall Show' before dominating the Internet. Even Vince Gilligan had to make 'The Lone Gunmen' before creating 'Breaking Bad.'
While some actors took on small parts before finding some meatier roles, many too sought paychecks and air time with advertisements. With that in mind, we present to you just some of the many actors who found themselves eventually making it big right after a commercial break.

Steve Carell - Brown's Chicken
Leading off with a strong one, we offer the versatile and adored Steve Carell, who before 'The Office' and 'The Daily Show,' sold chicken. Surely it's a role that he can laugh at now – I mean, how great is it when he says (while wearing that sharp uniform), "our chicken is cooked completely cholesterol free," as if they just cracked the DNA code? Also, maybe it set the groundwork for Produce Pete?
Tina Fey – Mutual Savings Bank
Not to be outdone, fellow NBC sitcom alum Tina Fey has herself a showing of commercial comedy. The haircut, the vest, the eerily abandoned and dimly-lit apartment: this one is pretty mesmerizing in its weirdness, but Fey gives it her all in her first ever TV appearance. Safe to say, it's the funniest thing she has done until whatever else she did immediately after (clip at 2:32).

Jason Bateman - Golden Grahams
Just like George Michael Bluth, his 'Arrested Development' son, at one point in his life, breakfast was the most important thing to Jason Bateman. He takes the lead in this especially dated commercial for Golden Grahams, as amid a gaggle of soap box-racing kids (because, you know, cereal), Bateman gets the money line.

Bryan Cranston - Shield, Preparation H
Warning - this one could be too much to handle for some viewers, especially those serious 'Breaking Bad' fans. The hair and glasses sported by a young Bryan Cranston are enough to knock you off your chair. Then, there is the determined way Cranston turns the corner to let you know without a doubt the unparalleled healing powers within Preparation H. Then, of course, there is the fact that Cranston is an award-winning actor and star of one of the most acclaimed series of all time. Lastly, it's all a bit of irony that Walter White was pushing drugs decades before making meth.
Aaron Paul – Corn Pops
Keeping with the AMC drama, here in another piece of poetic irony, a young Jesse Pinkman is craving Corn Pops, probably because he is high. Okay, it's not explicitly clear, even though he is clearly zoned out and apathetic in what appears to be just after four o'clock. Nevertheless, Aaron Paul's gotta have his pops.

Matt LeBlanc – Heinz Ketchup
If ever a commercial foreshadowed an actor's later notable roles, it's this one. Matt LeBlanc plays a self-assured, good-looking, not-so-subtly sexual operator who likes to impress. For whatever reason, he is chilling on a rooftop with a bottle of ketchup (typical Joey), only to get in line for food with the clear motive of hitting on a woman (typical LeBlanc). Well played.
Megan Mullally – McDonald's
As earnest as Mullally is during this commercial, knowing her as we do know now, inhabiting roles such as the hilarious and snide Karen Walker, it's hard to take this ad at all seriously. Watching though, lots of questions come to mind, like "Honey, what's this? What's happening? What's going on?"

Sarah Michelle Gellar- Burger King
While we're on the fast food chain train, here is a precocious and almost unrecognizable vampire slayer. Sarah Michelle Gellar pours on the cuteness shilling for Burger King, even though, if you listen closely, it's all to mask an insipid attack on rival McDonald's. Your move, Mullally.
Mila Kunis - Lisa Frank
Admittedly, I know not of who or what Lisa Frank is, but it's clear that Mila Kunis here is pretty stoked about it (her? them?). With an onslaught of bright colors, the requisite golden retriever, and some clear mania for tangible goods, this commercial is so very proudly and nostalgically '90s.

Stephen Colbert - FirsTier Bank Nebraska
This is another situation where it's hard not to sense some sarcasm or parody in the voice of a star we've come to know as smart and witty. Stephen Colbert, in an oversized school, promotes FirsTier Bank (what?), but while you're enjoying his monologue, don't miss the fabulous special effects and a landline telephone with a retractable antenna.
So, if there is a lesson that can be drawn taken from these examples, it's this: Heinz Ketchup helps you pick up women.