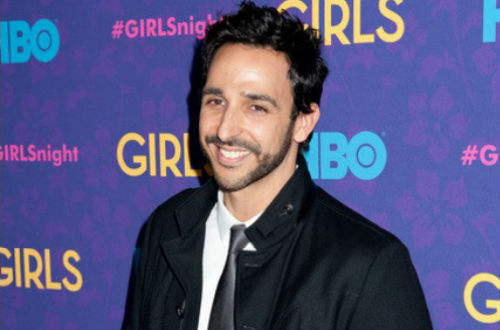 He's that guy who's popped up all over the small screen. From 'NCIS' to 'Law & Order: SVU' to 'Homeland' to 'Gossip Girl' to 'Zero Hour,' Amir Arison isn't a forgettable face.
Nowadays, Arison can be spotted as the tech-savvy computer genius, with a great personality (and, yes, he's just as funny and fantastic in real life), Aram Mojtabai on NBC's hit drama 'The Blacklist,' and he even has a recurring role coming up on HBO's 'Girls' as Kevin Mimma, a co-worker of Hannah's (Lena Dunham).
Arison was nice enough to divulge some information to TVRage about his current roles, and why it's so inspiring to work with Lena Dunham. Warning: some major spoilers from 'The Blacklist' are discussed.
TVRage: To start, let me just say how much I enjoy your character on 'The Blacklist.' Not only do I enjoy his humor, but one of the things I enjoy so much is that Aram brings a relatable human element to the show. With that said, what attracted you to the character?
Amir Arison: Well, it's funny how it evolved, actually. When I first auditioned for it, the show hadn't come out, it had tested well, but it had not premiered yet. I was only in New York, because I had just finished filming 'Girls.' ... When I got called in, at first, I was like "well..." The original name for the character was "Morgan Hackett," and he was a computer techie guy -- there wasn't that much to the character. At first, I was like, "Well, do I even want to do this? There's not really an arc. It's one episode." … As I was working on it, I was like, the only way I'm going to enjoy this, because he's just behind a computer and stuff, is if I have fun with it and do what I've always wanted to do with a part: bring as much of my own personality and have fun.
He was originally described as "he loved his goatee more than his gadgets," or something like that. I took that as, he loves what he does, he's super excited about what he does. I love what I do too. I love getting on set. I love working. So, I kind of just blended those two ideas with my love of working and working with others to Aram. My love of computers, my love of helping out, and this character kind of evolved.
Then, when I actually got the first script I couldn't find the character "Morgan Hackett." They didn't tell me that the name had changed. I looked up the scene that I auditioned with, and that scene had been reworked and been given to Parminder's [Nagra] character, Meera. … I literally had no idea who I was playing (laughs). [Eventually], I was like, "I think I'm Aram Mojtabai." … When I got to set the director, Michael Watkins, was like, "I just told the guys we should name him after you. Name him Amir. Because he's like you, and he should look and sound like you." Then, they came up with Aram. So, I think Aram was a version of my name. … I'm very grateful for that  first episode that I did, because Michael Watkins … he really trusted me, and liked my work, and we got along really well, and he was just like, "Oh, do what you do! Do what you do! You wanna say it this way? You wanna say it that way?" Because I just came from 'Girls,' I felt a little improvie. Not with the other characters, but when I was alone at the computer, I threw an improv here or there. … They loved that. This guy has some personality, has a point of view, and then they started writing to it. … This was the first time in my life that a character started being written and it sounded close to my own voice.
Honestly, it was really timely, and organic, and fortunate, and there was just good energy around that moment, and I'm extremely, extremely grateful. I had no idea that I'd still be participating in the show this many episodes later.
TVRage: Well, I'm glad it worked out, because, like I said, I really enjoy the character.
Arison: I'm also grateful, because there's a lot of badasses on the show. I mean everybody's a badass. So, it was like, you don't need another badass. I'm badass at computers, that's pretty much it (laughs).
TVRage: Aram is the main computer guy on 'The Blacklist.' From cracking codes to hacking databases, he's quite versed in technology. Would you call yourself computer savvy? Do you understand anything Aram does on the show?
Arison: I feel like you're asking a magician to show you behind the curtain (laughs). Well, the question is, "do you believe me?" (laughs). … I'm not bad. I would say Aram is probably a little better than I actually am at computers, but I can make my way through a computer's universe. I'm literate. I'm computer literate in today's modern age (laughs).
TVRage: I like to ask, because if someone is playing a doctor or a lawyer they have to learn all this terminology, and I wonder, "do they understand what they're saying?" or "do they study up on it?"
Arison: I've actually played quite a few doctors before, and my parents are doctors, so I would always call them. … I'm sort of naturally curious by nature. … There's always questions to ask. You can always be more specific with your work. That's my own nature and the way I like to work. When I am playing a doctor, I do know, I mean I probably shouldn't do open heart surgery, I basically know what I'm saying. Also, with the computer stuff, if there's something that's totally out of hand or something, I'm not so method where I actually go break code … Sometimes you just mean what you say, and say what you mean, and that's enough.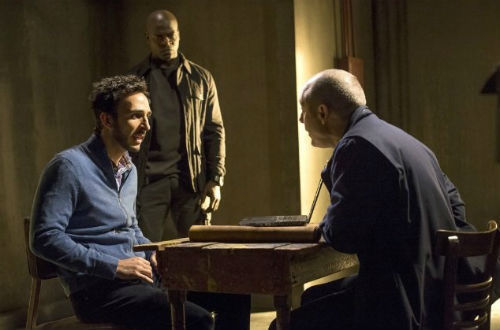 TVRage: Let's get into the big storyline of the show: on Monday's episode, the mole was revealed. Were you surprised it was Diane Fowler (Jane Alexander)?
Arison: Yes and no. I was surprised when Newton Phillips [Charles Baker] framed me [Amir] a couple episodes ago through the bank and everything. I know that our lead characters are so intrinsic to the show and to the plan, so far, that I just thought it would be highly unlikely that it would be one of them to be the mole. And Red [James Spader] does not take shit from no one (laughs). As soon as someone's the mole, there's a ticking clock on how long they're gonna last. I wasn't totally surprised. ... I guess the answer to that is yes and no. I'm sad to see her [Alexander] go, because I didn't work much with her. We were in a scene peripherally together, but Jane is a lovely person, and I really look up to her.
TVRage: How many more are episodes are you set to star in, and any chance you'll become a series regular?
Arison: That is a great question. That is a million dollar question. The vibe is that I'm sticking around, but I don't really know how to answer that question. That is probably a question for producers, or the studio, or the network. I'm enjoying myself, and I'll stick around as much as I can and as long as they'll have me.
TVRage: In addition to 'The Blacklist,' you're also starring in this season of 'Girls.' So far it's been revealed that your character is a co-worker of Hannah's, but what can you tell us about your character?
Arison: Well, the character is probably the opposite of Aram. He looks similar. He looks like me and has a beard (laughs), and he dresses pretty well. That's about as much as they share. Maybe he funny's too? I hope. Maybe that's similar. My character's name is Kevin on 'Girls.' So, Hannah gets a new job, and at the new job she has a new boss and new co-workers. As you might have with your co-workers, there might be a guy she might be sort of flirting with, or there might be a new girlfriend, and, of course, there always has to be an office enemy, a frenemy, if you will. So, I am one of those three. All the scenes we did at work were so fun. It's like taking Hannah completely out of her environment and putting her into a professional, corporate environment. It's good for the comedy. She [Dunham] was so funny and so cool. I can't speak highly enough about working with Lena Dunham.
TVRage: What is it like working with Lena Dunham?
Arison: She is everything you would expect and more. She's just like Hannah, except absolutely self-confident, and focused, and generous. She's as quirky and funny and as intelligent as Hannah is, plus. … [She's] the youngest role model I've ever encountered.
Be sure to watch Arison on 'The Blacklist' airing Mondays at 10/9c on NBC. Also, don't forget to check out his debut on 'Girls' Sunday, Feb. 9 on HBO.